Bearing the branding of 2Dawn Games' upcoming online shooter Ravaged, the new headset from Andrea Electronics forgoes the traditional 'boom mic' for dual (earcup mounted) audio receivers.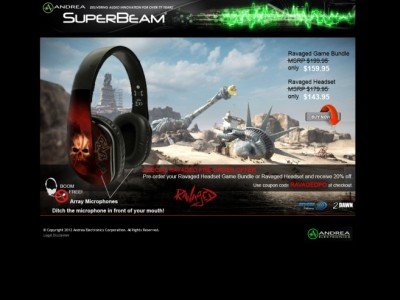 The company claims that the unique setup actually provides for smoother, more even sounding vocal reception. Featuring the adaptive 'beam forming software', the new series of SuperBeam headsets promise to focus in on the users voice and all but eliminate annoying background sound. Also important to note is that they have really cool skulls painted on the sides… for that alone they might be worth a look.
Andrea also says that the headsets can be used for anything that you normally would use a PC headset for – that includes video chatting, VOIP communication, using speech recognition software, and (duh) gaming.
"The SB-805 headset was designed to give hard core Ravaged computer gamers the unique feature of embedded stereo microphones, providing clear voice pickup in a premier top of the line headset and with beam forming digital noise canceling technology that will allow users to have more freedom to eat and drink while game chatting," said Douglas Andrea, President of Andrea Electronics Corporation.  "The ear cups are also loaded with 50mm speakers that deliver powerful bass, clear midrange and sparking highs for a high definition game sound experience."
Ravaged will be available on the PC tomorrow and these 'boom free' headsets won't be out too long after that. If you'd like to plunk down some cash for a pre-order though, the company is currently offering a price break on the line- complete with an offering that includes the game.
Gamers who pre-order the Andrea Electronics SuperBeam SB-805B Ravaged-branded headset will receive a special 20 percent discount off the retail price.  The SuperBeam SB-805B headset is available alone (MSRP $179.95, Discounted to $143.95) or as part of the Ravaged Game Bundle (MSRP $199.95, Discounted to $159.95) and can be purchased through the Andrea Electronics SuperBeam Website (www.SuperBeam3D.com).