Mimobots (little flash drives shaped like popular characters) have been around for a while now- Uglydolls (ugly… dolls) have been around for a while now. Uglydoll Mimobots? Those are brand new.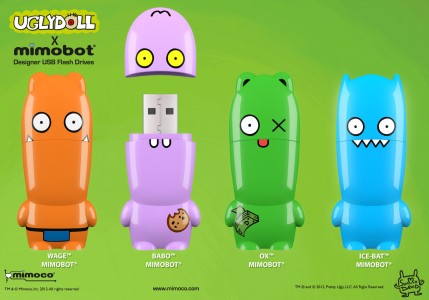 Bot maker Mimoco's little drives are favorites of mine; I have a bunch ranging from original characters to Star Wars. These latest editions are looking pretty slick even as someone who isn't into Uglydolls.
The Ugly-Mimo's come in flavors of up to 64 gigs (I think that's the biggest they've ever been) and ship with the usual set of Mimobot digital toys already on the drives.
"The Uglydoll X MIMOBOT collection stars some of our favorite contemporary indie characters of all time," says Scott Seraydarian, Director of Media at Mimoco. "The Ugly philosophy promoting love, friendship and cuteness (…even in an ugly way) is a perfect fit for Mimoco. We're extremely excited to collaborate with David Horvath and Sun-Min Kim on their signature brand and can't wait to share our crossover series with Uglydoll fans around the globe."

"Fans now have a place to store all of their amazing Uglydoll photos! We won't be surprised if they scoop them all up and display them on a shelf, they are simply that awesome! We are excited for this launch in the Mimoco booth at the New York Comic Con and are thrilled to have our first collection of MIMOBOT." says Alita Friedman, Pretty Ugly Partner and Chief Brand Officer.
The lil' guys are available now at www.mimoco.com or at NYCC booth #3111 from now till Sunday, should you be attending.