Fans of Marvel's white-clad vigilante take note, Mezco's take on the hero has hit the pre-order phase and will be seeing release this fall.
The Fist of Khonshu
A niche favorite, Moon Knight is a long running Marvel hero who's seen various levels of fame. It seems the current era has him securely in the backdrop, but he was pretty big fairly recently.
If you don't know him well, he definitely has a fragile mental state, but it undeniably cool. After all, how many superheroes do you know of who have an ancient Egyptian connection?
During a mission in Sudan, Marc Spector was left to die in the dessert by the hands of a bloodthirsty terrorist. Discovered by locals, Spector was brought to a tomb and placed at the foot of a statue of the moon god, Khonshu. After being pronounced dead, Spector arose suddenly, claiming Khonshu had restored him to life. Donning a cloak taken from Khonshu's statue, Spector became Moon Knight, delivering vengeance in Khonshu's name.


Mezco press release
The One:12 Collective take on Moon Knight comes complete with the usual assortment of hands and face sculpts, as well as a solid arsenal. He also comes with 2 different hoods, both of which can be removed. So you might be able to create a few of his signature looks.
Moon Knight is scheduled to join the One:12 this fall, and is available for pre-order right now here.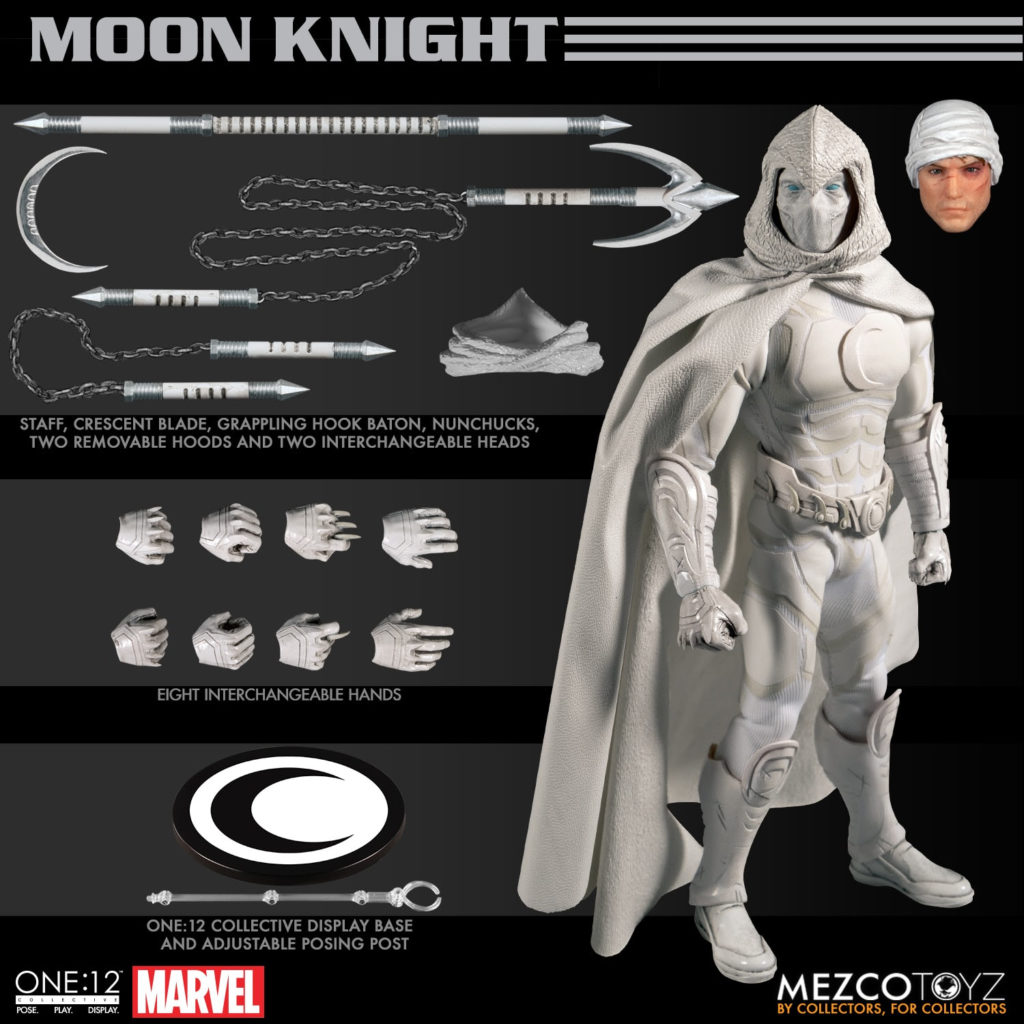 THE ONE:12 COLLECTIVE MOON KNIGHT FIGURE FEATURES:
One:12 Collective body with over 32 points of articulation
Two (2) head portraits
Hand painted authentic detailing
Approximately 17cm tall
Eight (8) interchangeable hands including

One (1) pair of fists (L & R)
One (1) pair of posing hands (L & R)
One (1) pair of grabbing hands (L & R)
One (1) pair of throwing blade hands (L & R)
COSTUME:
Fitted suit with 3D crest insignia
Two (2) hoods (removable)
Wrist gauntlets
Duty belt
Knee-high boots
ACCESSORIES:
One (1) crescent blade
One (1) staff
One (1) pair of nunchucks
One (1) grappling hook baton
One (1) One:12 Collective display base with logo
One (1) One:12 Collective adjustable display post
Each One:12 Collective Moon Knight figure is packaged in a collector friendly box, designed with collectors in mind.
The One:12 Collective Moon Knight is available for preorder at https://www.mezcotoyz.com/one-12-collective-moon-knight.