PlayStation Plus is currently on a winning streak with their AAA titles these past two months and it isn't different here with Just Cause 3 and Assassin's Creed: Freedom Cry as the big PS4 games for this month!
The Most Unconventional Ways Possible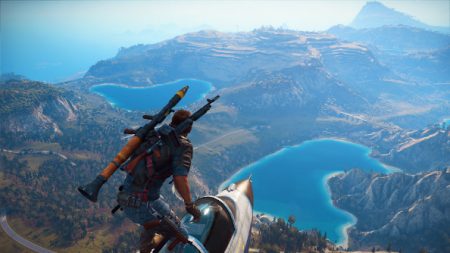 We jump into the crazy and chaotic boots of Rico Rodrigues (in Just Cause 3), the mercenary who returns to his birthplace of Medici. Set off to restore freedom to this once great land from the grasps of the dictator General Sebastiano Di Ravello in the most unconventional ways possible.
Next, up on PS4, we have Assassin's Creed: Freedom Cry. Introduced as an "Epic Add-On Adventure" to Assassin's Creed: Black Flag become Adéwalé an assassin who's goal is to interrupt the slave trade and free Port-au-Prince from the French.
Super Motherload on PS3 is a digging adventure (much like Steam World Dig) with and 80's art style that makes the game pop with color. It also helps that the characters are pretty funny. With multiple endings, free room, and 4 player couch co-op you'll never want to leave Mars!
Snakeball is quite an oldie. Coming out in 2007, this 3D remake of the Classic "Snake" makes for a great party game. Go around adding to your tail and shooting other in this disco tech world of Snake. Just don't bit your own tail…or anybody else's for a matter of fact.
Now it's time for the finale around, the PSVita! It's actually kind of sad this month for the Vita getting Downwell which seems interesting but couldn't describe the game even if I had too. (Here we go!) You play as a white character falling down a well where you must shoot enemies and rubble to grab the highest score or spend some time at the various sellers.
Level 22, Gary's Misadventures. You play as Gary who is always late for work and is on the brink of being fired. You have to get Gary to his office on the 22 floor without being seen by your co-workers mixed in with the occasional boss fight and goofy pop-culture references.
Chill Time With Your Bros
I would highly recommend trying out Just Cause 3, Assassin's Creed: Freedom Cry and Super Motherload as those seem to be the top games of this month which makes it very action heavy with a little chill time with your bros.
That's it for this month and don't forget to pick up That's You! which is PlayStation Plus members free bonus for being with PSplus. It's free from 7/4/2017 11:00 am to 10/24/2017 11:00 am. Also, don't worry, this will not take the place for any PSplus game. It's just a bonus for being a proud member. Cheers!
Full lineup:
Just Cause 3, PS4
Assassin's Creed: Freedom Cry, PS4
Super Motherload, PS3
Snakeball, PS3
Downwell, PS Vita (cross-buy with PS4)
Level 22, PS Vita