Mezco Toyz had a few new items in their booth at SDCC this past week, including some surprise Marvel and DC movie figures.
Cinematic
Most of what Mezco had to show off this SDCC was stuff that we've already been shown. Doctor Strange was there, as were the ever-upcoming Ghostbusters figures, Ash from Army of Darkness, and DC's dark god, Darkseid himself.
But that's not to say that there weren't a few surprises. The teased Thor: Ragnarok figures of Thor and Hulk were on display, as was Spider-Man from Homecoming, and Daredevil from the Netflix show. All look pretty cool, though I have to add that I'm a little disappointed in the first two I mentioned.
I'm a comic fan first and foremost. While Daredevil and Spidey already have One:12 figures out there showcasing their printed forms, Thor and Hulk don't. And these aren't even "basic" MCU versions of those characters. Nope, these are molded after the aggro-duo as they appear in the upcoming Thor film. So they're all gladiator'd out. If I had comic versions already, I might dig these. As it stands right now though, I'm a little aggro myself.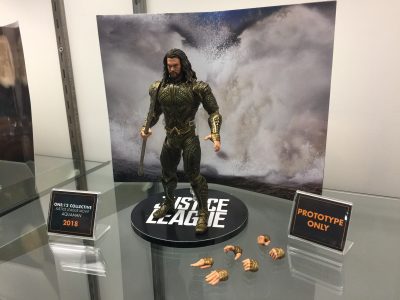 Also in the same vein is the Aquaman figure. I like the DCEU's design of Aquaman a lot, and this is a basic version of that, so I do have less of an issue with it. Still though, I'd much rather have a "DC Comics" Arthur first, and a movie figure second. Same goes for the One:12 Wonder Woman, who was oddly absent.
Speaking of comics…
The comic stuff that Mezco did have own hand though, was awesome. Batman Beyond and Catwoman look terrific, and so does that comic-Spidey and Deathstroke. And personally, Iron Man can't hit retail soon enough. Holy crap does he look incredible.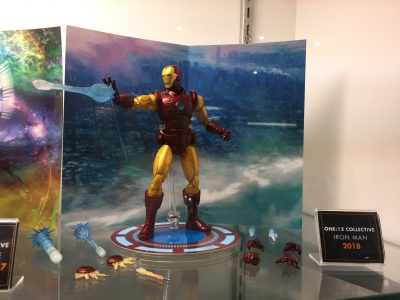 As for Superman, well, he's too skinny. Let's hope that gets 'fixed' before launch, because this figure really has a lot going for it otherwise. I also don't really like the outfit on the Rising Knight Batman. They were going for a "Year One" look here, but the ears are way too long, even for a throwback look. I'm seriously liking that Bruce Wayne alt-head though. That's just cool.
Oh, and it looks like Mezco might have put the long-shorts version of Wolverine in the case by mistake. So don't freak out when you see him in the gallery. If you don't remember, there was a kind of 'thing' about that. Mezco had this version all set, till fans said they weren't digging the long, bike-style, shorts on him. Since, the company had shortened them a bit, and the figure looked that much better for it. I assume that's still the version that collectors will be getting.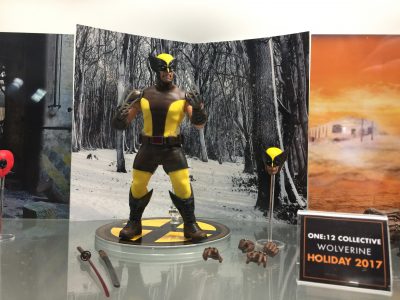 And then there's that Punk Joker. Why are we getting another Joker when there's already maybe the best Joker figure ever as a art of this line? I dunno. He's actually pretty slick looking, however unnecessary he may or may not be.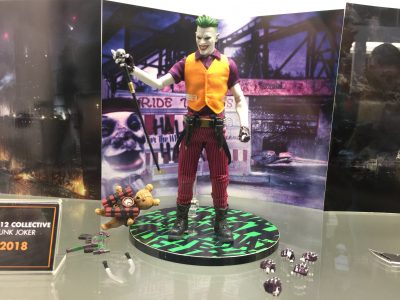 Those were the highlights for Mezco at this SDCC. Check out the rest of what was on hand in the gallery below.