Bandai Namco's little round mascot is 35 years old, and still holding his own in the world of gaming. Happy birthday Pac-Man.


Once upon a time, back in 1979, a little arcade game popped up in the gaming dens of Japan that would take the world by storm. This was the golden age of the arcade and the dawn of Pac-Man. Called Pakkuman in its home country, Pac-Man starred a yellow… something, that basically had a never-ending hunger for little dots, power pellets, and (when scared) ghosts.
Creator Toru Iwatani crafted the first Pac-Man in a year, with the help of a nine-man team according to the Wiki page for the title. Also according to the page, the origin of Pac-Man himself is all wrapped up in, unsurprisingly, eating. Iwatani apparently created the name from the Japanese phrase 'paku-paku taberu', which basically means 'the movement that the mouth makes while opening and closing', which is ever-so-slightly disturbing.
He also says that he got the shape of the character from a pizza missing a slice. Then again though, he also says that he simply rounded out the Japanese character for mouth (which is kind of a square), and further cites a hockey puck as inspiration, so who knows. Eating to gain power though? That came from Popeye. Yes, the cartoon character who ate spinach to get massively muscled.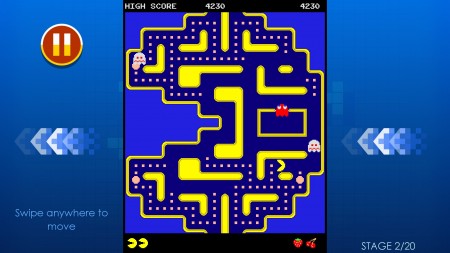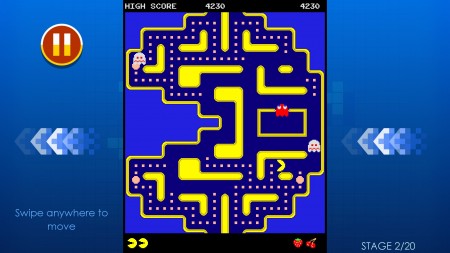 Aside from the looks and theme of the game, the control scheme of this maze-running title was incredibly simple and hooked gamers right off the bat. One stick controlled Pac-Man, allowing him to move through the mazes of differing complexity that appeared as the game progressed. No buttons needed, the Pacster would munch pellets as he went, gobbling up larger, strategically-located power-pellets in order to get a special ability that would allow him to eat the multicolored ghosts that normally chased after him.
It was such a simple game looking back. Of course, at that time, people didn't really know that the ghosts moved in a set pattern, so it had a little more mystique to it. Even now though, it's pretty easy to forget that as their movements are pretty complicated, and getting gobbled up yourself is all to easy if you're not paying attention… and even if you are really.
Even though I wasn't there for launch (just a wee bit too young), I still have more great memories of Pac-Man and its spinoffs and sequels than I can relate. The game was a mainstay in my local pizza shops, on and off, through the 80s and I almost passed out the first time I saw Pac-Mania, which was a sort-of 3D, isometric Pac-Man title that had some really cool graphics.
Not that the original didn't mind you. I loved those awesome wireframe, neon bars and simply-colored ghosts to death. And Pac-Man's design was almost perfect. Simple, but eye-catching and lendable to tons of merchandising opportunities. The character was almost everywhere, on stickers, notebooks, figurines and more. And I distinctly remember that a buddy of mine had some homemade Pac-Man and ghost plushes that his mom made for him. I might have been just a tad jealous of him.
Oh, and then there was this.
Yes, there was a Pac-Man song. It was the 80s… just let it go.
As for home versions of the quarter-cruncher, really just name a console and there was probably a Pac-Man game for it. I think the first one I played in-home was on the NES, though it might have been the GameBoy version too, as I played that one to death.
These days you can even find Pac-Man on some of the most recent consoles, with versions on Xbox Live and the PSN, as well as mobile devices. I have a version on my iPhone that never gets deleted. It's a mainstay, that's consistently fun and easily can eat up a few minutes (no pun intended) here and there. The touch controls on a mobile lend themselves quite well to mazes too, with a swipe here and there to guide Pac-Man around.
Speaking of mobiles, to celebrate the 35th anniversary Bandai Namco has an update to that game that's already live. The update paints the game in a special 35th anniversary deco, and adds in some new mazes and challenges for gamers to while away even more time on. There's another release planned too, with Pac-Man 256,, who's name and theme plays on that famous 'level 256' glitch that wrecked the arcade game all those years ago. Of course, the difference is that it's not really a glitch this time around.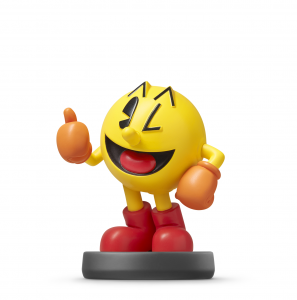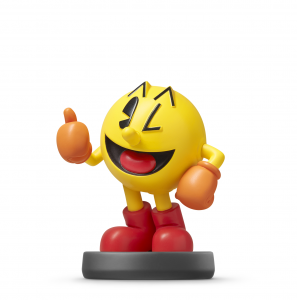 And of course, I'd be remiss if I didn't mention that Pac-Man is also an Amiibo now (if you can find him), and is present in the latest Super Smash Bros title on the Wii U and the Nintendo 3DS, where he's a playable character. And although he appears in a cartoon form (with arms and legs) there's actually a really cool special move in that game too, that makes him into a giant version of his classic form, munching other characters as he crosses the screen.
Hopefully, there'll be a few more surprises coming up this year for fans too, as Bandai Namco has revealed that there'll be a birthday bash for the character at their Illinois restaurant, which is also called Level 256. Iwatani himself will be present for that party.
And don't forget that you see Pac-Man in the big screen movie Pixels this Summer. The Adam Sandler/Kevin James flick looks pretty much exactly how you might assume it does (check it out here), but the special effects are kind of cool, with that pixelated look that certainly fits Pac-Man quite well.
Yes there's still plenty of life left in Bandai Namco's little pizza, or hockey puck, or… Japanese phrase. And I'm sure it'll only be a matter of time till we get news of another new iteration of the character coming to video game land. The Arcades where he was born might be all but dead and gone, but Pac-Man is forever.