Formerly 'The Crowded Coop', The Coop has a fantastic lineup of bags and accessories featuring Halo, Valve, The Walking Dead and more, for the gamer on the go.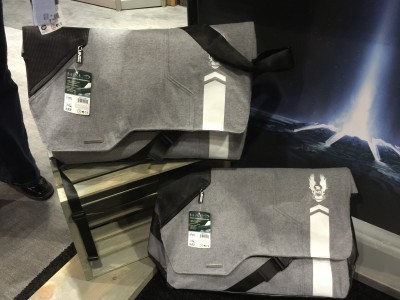 If you're looking for a new messenger bag or backpack, then you've come to the right post, because The Coop has some of the coolest and most highly-detailed stuff out there when it comes to some of the biggest properties around today. They've been cranking out awesome Valve stuff for a while now, but the lineup that they showcased at Toy Fair a little while back was head and shoulders some of the best they've had.
I'm personally a big Halo fan, so that's the stuff that grabbed my attention more than anything else. Whether you're talking about the hard-case messenger bag that looks like it just fell off a Warthog, the items that look straight out of ONI, or the backpack that looks like it was lifted from Agent Locke's locker on the Infinity, literally everything was cool- right down to the light-up keychain that resembles Cortana's storage device.
Also awesome was the selection from The Walking Dead. I'm not really a fan of the show, but the attention to detail really won me over here. Everything is authentically crafted, and includes little Easter Eggs for fans. If that's you, then you'll want to check some of these things out, especially that sheriff's bag, wow is that cool.
The Coop's Star Trek line is also blowing up, with all-new items from the classic show. The same goes here as it was with their TWD and Halo items, it's all about detailing and including little nods to the classic sci-fi TV show. Particularly awesome is that neato messenger that looks like the saucer section of the original Enterprise. So cool.
But enough talk, have a peek through the gallery and pick your faves. You can grab all of the stuff shown (well, not all, some is still on the way) and more at The Coop's official online storefront here (even a bunch of awesome pet-centric stuff!), or at places like Entertainment Earth.