Microsoft's cross-promotional push to get the Xbox One and Windows 10 PC's to play nice has the upcoming PC version of Pinball FX 2 crossing over tables purchased on the console.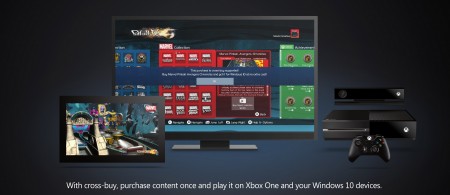 "Zen Studios has a history of collaboration with Microsoft, so being able to work with them on this launch title for Windows 10 is a fantastic opportunity," said Mel Kirk, VP of Publishing at Zen Studios. "We've loved what we've seen so far out of the operating system and being able to allow our Xbox One fans to import their tables to Windows 10 is something that gets us excited! We love providing extra value to players, and supporting their purchases across both Xbox One and Windows 10 is as good a value as you can get."
So here's a little nicety that you probably weren't expecting. With Microsoft talking up their new effort to get the Xbox and PC gamer on the same page though, maybe we should have been looking for stuff like this to start popping up. Bottom line – buying a table in Zen's Pinball FX 2 for the Xbox One and then being able to play that same table in the PC version of the game (or vice-versa) is pretty exciting, especially since Xbox and PC versions of games haven't benefitted from anything like this kind of purchase plan in the past.
Microsoft's ID@Xbox self-publishing platform is coming into play here as you might imagine, allowing Zen to enact the first-of-its-kind cross-buy program. And, although there's no release date yet, the new version of the game is already playable right now at the Xbox Booth in the Moscone South Hall (#802) at GDC, which is taking place as we speak (actually, today's the last day).
The publisher promises a lot more very soon on what to expect from Windows 10's version of Pinball FX too, so stay tuned.