Ubisoft's other Assassin's Creed title from this past Holiday Season is heading to the PC.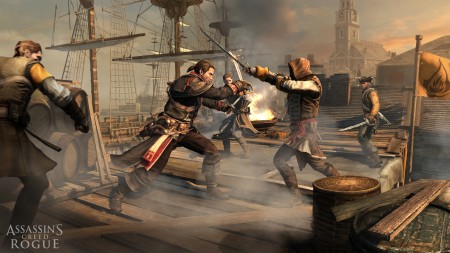 Honestly, it was kind of strange that the game wasn't already available for play on the personal computer, given that pretty much every other AC title is. It was kind of fitting though I guess, since Rogue was set to be a last-gen game only, and the PC is probably even more 'next-gen' than the current generation of consoles are.
Still though, here we are with the announcement that Assassin's Creed Rogue is ready to get all stabby on computers, and pretty darn soon too as it'll arrive next month, on March 10th. It'll have a pretty neat difference than its console cousins too, as the PC version will support eye-tracking. Not that I know of anyone who has any hardware capable of logging eye movement, but that could introduce some interesting gameplay.
Also nice is that, if you pre-order the game on Ubisoft's own Uplay storefront, you'll be able to pick a free additional Assassin's Creed game for your trouble. As for the Uplay edition of Rogue, it'll include some bonuses as well with both The Siege of Fort de Sable and The Explorer DLC included for free.