The new year means a return to normal, so if you're still wallowing in the dearth of titles that hit stores over the last two holiday weeks, well, bust out the wallet because there's plenty out there this week!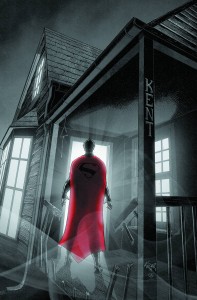 Pretty much all the major (and a few minor) publishers are back on track in this first full week of 2015, and there's plenty to like and plenty of big name books set to be on the racks.
Starting things off for this coming Wednesday, a brand new arc kicks off in in Green Lantern #38 that has the fallout of the just-concluded GodHead center stage. Hal returns to Earth to find that leadership of the Corps has a heavy price, which you probably knew it was going to eventually. Also in DC, Batman takes on Anarky in Detective Comics #38 as the streets of Gotham run wild. Detective hasn't had quite the applauded run that the Batman-titled comic has had, but it's nonetheless been a quality read that's reintroduced (to the New 52 universe that is) more than a few Bat-characters, Anarky being the latest.
Action Comics #38 should also be a pretty solid read this week, as it continues the tale of the Ultrahumanite (speaking of reintroductions) and the undead scourge that's been unleashed on Smallville, Supes' home town. Superman coming up against mystical forces is always a pretty fun time, given that he's as vulnerable as anyone else to them, so this could be a good one.
Meanwhile, over in Marvel, Spider-Verse continues on spinning its web in Amazing Spider-Man #12. You'll find not only Spidey, but also Miles Morales and Silk, as well as an all-new character that the publisher promises is "the most surprising Spider-Character yet". Oh, and there's a massive battle with Morlun in here too, but you wouldn't be interested in that.
Aside from Spider-Man and the 'verse, Ant-Man #1 launches this week and is notable for being the first title to star the character in a long time, and for the fact that this is a hero that Marvel is going to be pushing hard since the feature film is on the way later on this year. One to watch, definitely. Punisher #14 releases this week too and promises to be a monster of a firefight as Frank battles pretty much very bad guy in LA and tries to save what's left of his family.
So those are my picks for the best titles to grab this week, but there's a full listing on Previews' site (which you can find right here) and even more of my choices, should you have a little bit of a bigger budget this week, below.
Marvel Comics
The Punisher #14 – see above
Amazing Spider-Man #12 – see above
Ant-Man #1 – see above
Spider-Man 2099 #7 – More Spider-Verse hilarity as Miguel teams with a steampunk Lady Spider from the 1800's.
DC Comics
Green Lantern #38 – see above
Detective Comics #38 – see above
Action Comics #38 – see above
Injustice: Gods Among Us vol. 2 trade paperback – If you've missed out on what's become one of the hottest series at DC, this is the collected chapter 2 of the prequel to the NetherRealm video game of the same name.
Dark Horse Comics
Hellboy and the B.P.R.D. 1952 #2 – Hellboy and the team take on a bunch of nasties in Brazil, way back in 1952- and get more than they bargained for.
Ghost #11 – Ghost's actions have cost the life of one of her only friends, and now it's time for (some possibly poorly thought-out) revenge.
Valiant Entertainment 
X-O Manowar Classic Omnibus – The classic series that started Aric's adventures in the '90s returns here and is reprinted in its entirety. Which means 800 pages of awesome, in case you were wondering.