Last time you got to know the duo over at Synokoria that were behind the concept and creation of Halloween Otome. Today you will meet the talented musician that composed and lent his voice to the opening and ending theme songs, plus wrote an additional song that he sung for a character named "Wolfy."
Tyler Thompson grew up in a suburb of Minneapolis, Minnesota called Chaska. Most of his days are spent writing songs for his personal projects, and in his spare time he likes surfing and just being at the beach. Tyler also likes anything that involves exploring new places, and jumping off of cliffs into water.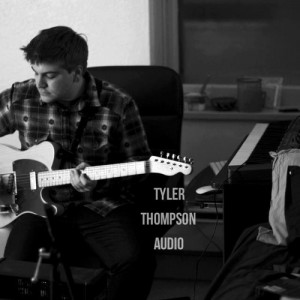 Tyler's love for music started when his father had gotten him a guitar when he was really young. He played it everyday until he could write his own songs."I started bands all the time and we'd record albums, and play shows all over but we never stayed together. So I started writing and recording full songs by myself and seeing what people thought and it went better than expected. Now I write songs daily for many people and love doing it."
Tyler started browsing Lemmasoft (a visual novel database) and found people who needed composers and got involved with the community. "I did 3 or 4 soundtracks before I did the Halloween Otome but when they asked me they seemed really far into their game and I liked the premise so I was stoked. We started emailing back and fourth and talking via Skype to figure out the sound they wanted and everything worked out great," he said.
In Halloween Otome the opening song was inspired by a house he was in while writing it. Tyler had been visiting someone in Minnesota, and was in the house alone for a night.
"There was a vibe that I felt that came out into that song. The other song was made for the character 'Wolfy' in the game, he was a pop star and they wanted his song to be a potential pop song. I also wanted to make a song that fit the theme of the game. Falling in love with someone while not knowing their identity, but knowing you like who they are and taking a chance to be with them. So that's what I went for with the lyrics."
Tyler's biggest inspiration for writing songs are everyday experiences. "Being mentally and physically active gets my creativity flowing. So things like hiking and surfing give me ideas for music, as weird as that sounds. Movies and Video Games are also a huge inspiration for songwriting."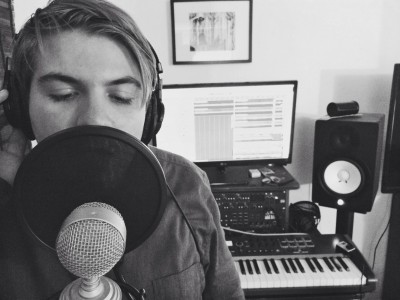 The talented musician shared that he doesn't usually sing his songs, besides the ones he did for Halloween Otome. This was because the duo over at Synokoria had requested a singer as a character. Tyler feels that his singing voice in a lot of cases takes away from the music.
Personally he enjoyed performing 'A Shot in the Dark.'
There are some things that Tyler keeps in mind whenever he is performing.
"Performing in the studio is a weird thing because no one is watching you so you don't feel very much pressure, which can be a bad thing because you don't show the emotion in your voice or in an instrument that needs to be there. That's what I think about the most while performing on songs is to play or sing with emotion."
In five years Tyler Thompson hopes to be a published songwriter that makes songs for movies, videogames and television. He also hopes to be living in a house and owning his own studio, where he can have the opportunity to record himself and other musicians.
When it comes to current projects, he just finished up a full soundtrack for a VN that is yet to be named but is being made by the team at Cherubim Scribes. (http://www.cherubimscribes.com) Tyler says it should be released within the next year. He also has a few personal projects that will be released soon. You can check his newest releases on SoundCloud (soundcloud.com/tyler-thompson-audio)
"I hope to inspire people the same way I'm inspired by music. When I hear songs that I love it can take me to places I've never been before and there's something magical about it that I don't know how to explain. I just hope people can get that some feeling when they hear my songs."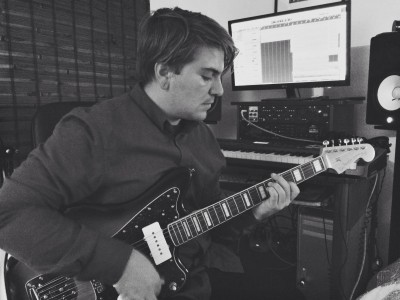 Tyler Thompson lives in Los Angeles.
If anyone has a new project and would like to get in touch with Tyler and work with him, email him at: [email protected]

HALLOWEEN TRIVIA: Tyler's favourite Halloween costume that he had as a kid was Charmander.
Special thanks to Tyler Thompson, for chatting with me. All the best!