The Masters of the Universe environment statues from Icon Heroes are stunning, there's just no other way to put it.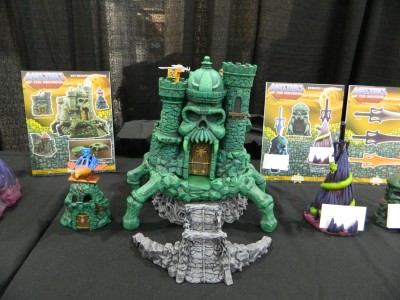 I had seen Icon Heroes' stuff on display at San Diego Comic Con last year, but I didn't really appreciate what the company was doing till I spotted them at Toy Fair in NYC this week. Showing at the world's biggest Toy Fair was the already available Castle Greyskull as well as the accessory pack for the Castle that includes Point Dread and the amazing Snake Mountain.
Matty Collector released its own Castle a short time ago, which is pretty great too, but after seeing this one up close I have to say that it's light years ahead of that Masters of the Universe Classics addition in terms of detail. Icon Heroes' version is a complete approximation of the famous cartoon show staple and is made even more awesome with the addition of the accessory pack.
In this new Deluxe Accessory Set, you'll find the bone base, the laser turret and flag and Point Dread- complete with Talon fighter. Taken together, the two sets basically make one of the most amazing looking MOTU collectables of all time. Maybe the only thing more impressive is the company's upcoming Snake Mountain.
Made with the sculpting team on the Matty Collector line The Four Horsemen, Snake Mountain is a brilliant mash-up of previous incarnations of the famous hide out of Skeletor and his evil warriors. Of course, they've done a lot more than that. The Horsemen have also embellished the piece and given it a life all its own that fits perfectly in with any era of Masters lore.
Also shown was the Greyskull letter opener/business card holder and another one that's modeled after Snake Mountain. There was also a sampling of the new He-Man minibus, some mouse pads and a selection of the company's new Star Trek offerings.
You can check out all the new stuff in the gallery below. Pretty much everything's not quite available yet, but the already sold out Castle and Greyskull business card holder should be coming back into stock very soon at retailers, if it's not there already.