Capo Toys has brought some very impressive looking Street Fighter toys to the New York Toy Fair.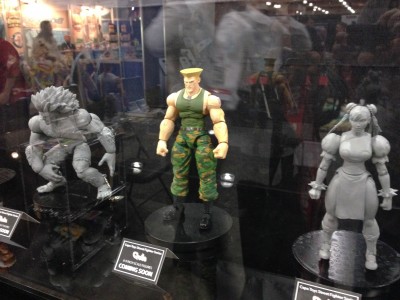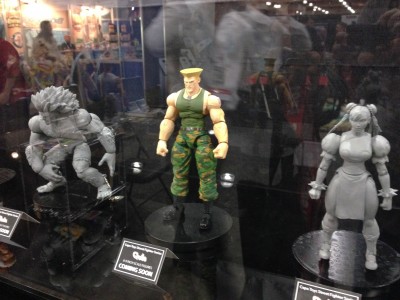 While I was chatting with the representative from Capo at their Toy Fair booth at the Javits Convention Center in NYC yesterday I realized something- there have been a ton of companies that have tackled Capcom's legendary fighting game Street Fighter over the years. The first ones that come to mind are Jazzwares (which were the most recent I think) and Palisades, but I'm not even really sure if the latter ever made it to market.
Maybe a little less memorable were the original Street Fighter II toys, the spinoff from Hasbro's mega-popular 3 & 3/4″ G.I. Joe line from the early 1990s. It took me a minute to remember them, but once I did the happy thought came a-rushing back. I remember many an afternoon where Shadaloo forged an uneasy alliance with Cobra to try and take down Guile and his G.I Joe detachment. This was epic stuff and was probably better thought out than either the Joe or Street Fighter movies… any of them.
Anyway, I digress because we're talking about Capo Toys new lineup here and not stuff from 20+ years ago. And these puppies are mighty impressive. Not only do the new World Warriors feature 20 points of articulation, but deluxe models also have real fabric clothing and some extremely cool touches like Blanka actually having articulated hair. That's just neat. Of course, some of the figures in the imagery have yet to see paint apps, but the work on Sagat, Ryu and Guile looks to be of excellent quality. That's a great thing too because if any fighting game deserves the triple-A treatment for your collection shelf, it's Street Fighter.
So far, only one wave has been announced and it will include Ryu (natch), Chun-Li, Sagat and the aforementioned Guile and Blanka. You can expect to see all of them on the shelves this Fall in wide distribution, but some exclusives will actually make their arrival into collectors hands well before that since SDCC exclusives are currently being planned. These look like winners guys and gals, cross your fingers that we get more than the initial five out of the deal.