Plantronics might not be the biggest name in game-related equipment, but that might be trending a different way if they keep making headsets like the Rig.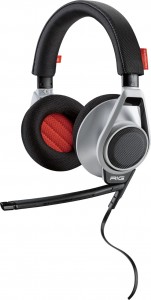 I don't know about you, but I mainly know the Plantronics brand from headsets for telephones- notice that I didn't say 'playing video games' there in any way. The fact that I personally associate the company more with office products than recreational ones should in no way turn you off of Plantronics new Rig Stereo Headset and Mixer though. And that's because it's a pretty terrific little piece of audio equipment.
The main 'hook' of the Rig and what makes it different from pretty much anything else out there is the fact that the user can flip the 'set back and forth from phone to game audio with nothing more than a press of a button. Although it might sound like a sort of gimmicky feature, it's actually a really cool little trick as I often find that I can't hear the phone at all when I'm gaming with a headset, solo or in multiplayer.
The Rig certainly eliminates that issue with ease as having the actual headset that I'm wearing be able to switch over to phone audio is a nice little solution to a challenge that I honestly never even gave much thought to. Although I have to say that now that I actually have a solution to said previously unknown issue- I really dig it.
Setting up the Rig couldn't really be easier either. The headset has no external controls of any kind mounted on the body and instead comes with a smallish, hockey-puck-shaped control unit. This little guy houses everything to get your phone, chat and games into the headset and it's stunningly easy to use.
All you need do is plug one end of the cable into the puck and the other end (which includes a mic for chatting) into the Rig. From there, pop a secondary cable from the puck (optical is optional, but can also be used) into your PC and you're all set for gaming. If you want the cell phone features as well, it's also easy beyond words as a simple tertiary cable dongle running to your phone's headphone jack is all that's needed for that as well. You don't even need to update anything or download a new set of drivers for the Rig- just plug and play.
After you plug everything in, just flip the center switch (on the puck) to your gaming connection and away you go. Get a call? Hit that large, easy to depress button's opposite side and flip over for a sec to answer- it's that easy. I'm sure there are a bunch of you out there thinking that they don't really want or need the phone controls, but even if you don't the Rig is a super headset and should still be very securely placed on your checklist of possible purchases.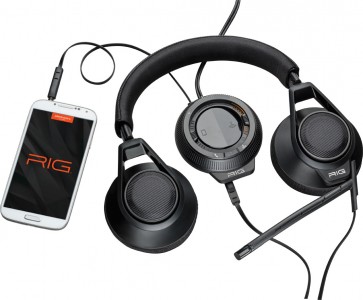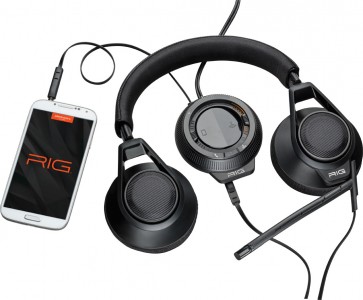 The phone/gaming feature of the Rig is actually only usable on a few devices (like the PC), as you'll need the puck to run interference for you. And if you can't use the puck with whatever you're gaming on, then the cell phone function becomes a non-issue. Even without that though, the Rig will actually function just fine on anything that has a headphone port. Wanna use it on your PS Vita? You can. Your 3DS or even Wii U and PS4 (via the controller headphone jacks)? You better believe you can.
In a surprisingly short period of time, the Rig actually became my go-to 'set for rocking handheld and mobile gaming platforms as it's fairly small and compact and easy to travel with. That's especially true as you can forgo the puck if you don't want or need the cell phone functionality; which makes this a very portable and very high-quality pair of headphones.
The sound is excellent on the Rig as you might imagine from a company like Plantronics and, while I'm probably not what you'd call an audiophile, everything sounded crystal clear to me and games sound gorgeous on its stereo speakers. No, there's no surround sound to be had here, but you probably won't miss it since everything sounds so good anyway.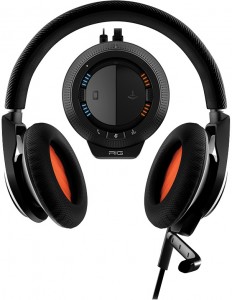 As far as looks go, the Rig isn't going to win any awards for innovation or crazy bells and whistles. What you see with this one is what you get and, while it's a pretty great headset, it lacks the pulsing lights and futuristic designs of others out there on the market. That's honestly fine with me as its design hits all the high points and all that other stuff is more often than not unnecessary anyway.
The Rig is lightweight and has some extremely comfortable ear cups. It's also by no means 'ugly' or 'boring'- just not flashy. And honestly, its not like you can see any of that disco-headset nuttiness if you're the one wearing them right?
Final Thoughts
The Rig is quite simply a great headset; no muss, no fuss.
Plantronics is a company that I think has a rep of getting the job done and doing it well and that's exactly what you'll get with this headset. It works beautifully, it's ridiculously comfortable to wear and it compatible (thanks to it being wired) with just about anything save a few select devices.
No, it's not from one of the big names in the industry (though it is a big name outside of the industry), but the Rig comes up big enough in all the right areas and even packs the super-unique feature of being compatible with your phone. There's just not much here to dislike- add it to your checklist of your on the hunt for a new headset and I doubt you'll regret it.