Just in time for the new iPad Air and iPad Mini with Retina Display, The Joy Factory has released an all-new line of carbon fiber mounting systems for just about any place you can imagine.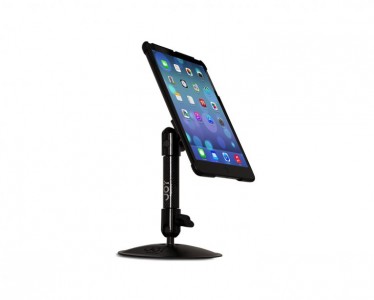 Keeping an iPad (of any size) handy isn't all that hard, but keeping it useful in unusual situations like in a car or in a kitchen can be. I personally like to use my old generation one iPad in the kitchen as a mini-media center for TV and tunes and it's not the easiest thanks to a really terrible old stand that I have it on.
That's just the kind of situation that The Joy Factory has crafted its new line of mounts to remedy. With mounting solutions that can clamp onto a desk or table, affix to the back of a headrest in a vehicle, or bolt right into the wall and pivot an which way you may need; there's something for pretty much anyone and any setup.
The full line is made from light-weight carbon fiber (which actually works to absorb movement and shaking, like in a car!) and is constructed with ball-joints and full arm-articulation. The Joy Factory also says that the mounts provide "an excellent strength-to-weight ratio to sturdily support the iPad", yet remain light weight and easy to fold up for storage. Basically, that means you can view your iPad in either landscape or portrait modes and disconnect and store without an issue. Basically, these sound pretty great and if you're in the market for a new clamp stand or wall-mount, you might want to have a look at what The Joy Factory has on hand.
Here's a rundown of what's available now and what it all can do:
MagConnect Desk iPad Mount – Offering the same sleek style of the MagConnect Wall and Clamp mounting systems, the new Desk mount offers a sturdy base to support the iPad in professional and casual environments. The carbon fiber arm provides the user with greater options to position the tablet in a convenient viewing angle. With easy installation and removal, the Desk mount offers greater freedom and convenience to work in versatile environments. The MagConnect Desk mount is offered at the MSRP of $99.95 (iPad Air) or $89.95 (iPad mini).
MagConnect Retractable Carbon Fiber iPad Wall and Clamp Mounting Systems– The MagConnect Retractable Carbon Fiber family suite is available in a variety of options suitable for iPad users at home, the office or professional trade work environments such as medical offices, schools and sales fleets. The mounting systems feature a 360-degree angle that adjusts to facilitate landscape or portrait viewing. The MagConnect design makes installation easy with a quick snap on and off functionality for wall, cabinet or flat surface applications. The wall and traditional clamp options provide maximum versatility for iPad users in the kitchen, the garage, office and numerous other locations. The MagConnect is offered at the MSRP of $119.95 (iPad Air wall/cabinet mount) or $109.95 (iPad mini) or $169.95 (iPad Air clamp mount) or $159.95 (iPad mini clamp mount).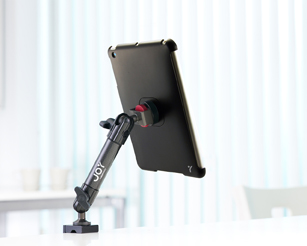 MagConnect C-Clamp iPad Mount – The MagConnect iPad holder with a carbon fiber arm and secure c-clamp easily adheres to any hard surface including a desk, bar, bookshelf, countertop or armrest regardless of shape. It is designed to allow users to work comfortably on their tablet hands free and offers limitless options for companies to leverage their iPad  as an extension of their business—albeit a kiosk, interactive menu and more. The MagConnect C-Clamp Mount has a MSRP of $99.95 (iPad Air) or $89.95 (iPad mini).
MagConnect Tripod/Mic Stand-Compatible iPad Mount – The MagConnect Tripod-Compatible Mount provides photographers or musicians maximum versatility to leverage their iPad at their studio, onstage and in the field. The lightweight MagConnect mount easily attaches an iPad to a tripod or microphone stand and is made with carbon fiber to offer sturdy support.  The flexible arm, which rotates 360 degrees, offers multiple hands-free viewing angles. The MagConnect Tripod/Mic-Stand Mount is offered at the MSRP of $89.95 (iPad Air) or $79.95 (iPad mini).
MagConnect™ Auto iPad Mounting Systems – The iPad seat bolt mount and headrest and the newest offering – the cup holder MagConnect mounting system from The Joy Factory allows users to maximize navigation or entertainment features of the iPad on the go. The seat bolt mount offers front seat passenger hands-free convenience to use their iPad for navigation while the headrest MagConnect mount attaches easily to the back of the front passenger or driver seat in any car, truck or SUV. Passengers can rotate their iPad in the case a full 360 degrees for optimal landscape or portrait viewing. And the cup holder option offers easy installation and fist most standard auto middle consoles. All three mounts offer an adjustable arm to make viewing comfortable from any angle and different height options.  The mount swivels out of the way when not in use. The MagConnect is available at the MSRP of $169.95 (seat bolt mount) or $89.95 (headrest mount) and $129.95 (cup holder).
MagConnect iPad Mount Systems for Wheelchairs and Frames –The MagConnect line is specially designed to provide greater iPad accessibility for wheelchair users and in healthcare applications such as hospital bed frames. The mounting system securely adheres to rails 1 5/8 inches in diameter with a c-clamp, while its MagConnect design makes attaching and detaching the iPad to the object's frame convenient. The retractable arm, complemented by the ball and socket design, offers portrait or landscape viewing angles and folds for easy storage when not in use.The MagConnect mounting solution includes an exclusive 3-year manufacturer's warranty, along with special customization consultation, which is designed to ensure that the mount fits a user's unique requirements such as height, wheelchair dimensions, etc.  The MagConnect iPad Mount is available at the MSRP of $179.95 (iPad Air) or $169.95 (iPad mini).