Activision's Skylanders franchise continues with some SWAP-able characters and a brand new villain on the 3DS.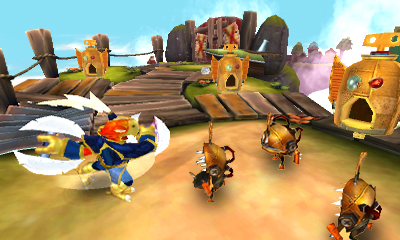 I'm a fairly recent Skylanders player. Though the franchise is beyond huge in terms of sales and fan support, I had only played the original title for a short time before I had the chance to visit with the developers at Vicarious Visions at a special NYC-area SWAP Force event this past Spring.
I didn't really know what would be different about the new game aside from what I had seen previously in the short time I spent with Spyro's Adventure. Other than the fact that you could somehow mix-up the characters powers (more on that later), how different could it be? To make a long story short, after the show I was pretty impressed. So impressed in fact, that I went out and picked up a copy of Skylanders Giants (last year's version of the game) for myself just to get into the universe that Activision and developers Toys for Bob and Vicarious Visions had created.
Now, I had seen and played with the console version of SWAP Force earlier this year, but I'm happy to say that the 3DS edition actually matches up quite nicely. Since there's even less of a difference between their play mechanics now that you can jump in both versions (something you couldn't do in the Xbox 360/PS3/Wii versions previously), the handheld Skylanders really has to stand on its own- and it does that pretty well.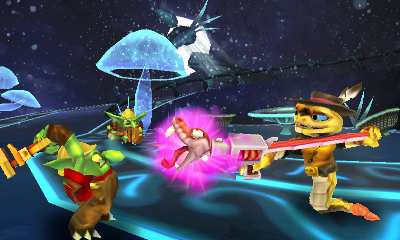 Make no mistake about it, this is a completely different title than its big brothers. Skylanders SWAP Force for the 3DS focuses on the nefarious Count Moneybone, an undead penny-pincher who's out to dominate all of Skylands. There's no Kaos in the 3DS' SWAP Force and it's actually a nice break from the perennial Skylander baddie.
Moneybone's levels near the end of the game have a particularly nice 'Day of the Dead' (the celebration, not the movie) vibe to them too that's super-cool and not something that I've seen in the previous games I played in the series. Though it should be mentioned that good looks aren't exclusive solely to the Count's hangout, because SWAP Force looks very solid throughout.
I'm not saying that the 3DS' visuals match say, the Wii U version's looks, but they aren't exactly ugly either. SWAP Force has that same fantastical and airy feel to the majority of its levels that you're used to though, and looks sharp indeed on the small screen. Stages range from grasslands to steampunk-y in visual flair and have numerous unlockable areas that can only be cracked open and explored by Skylanders characters of the matching elements.
Controlling your Skylander is pretty easy as well. I did have some moments where I found myself running in the wrong direction thanks to a few of the scattered 'side-scrolling' sections where my depth-perception was off, but overall I can't complain about anything other than having to hold my 3DS XL up for long amounts of time as its corners dug into my palms.
The sound design is likewise solid and the voice work is terrific. There's actually a stunning amount of acting in the game, which I didn't expect. I figured I'd hear a little of actor Patrick Warburton's Flynn here and there, but his work and that of the other character's voices are featured throughout. You'll even get a short intro sentence for each Skylander that you swap onto and off of the Portal of Power.
Oh, that brings me to one of the coolest new things about the 3DS' Skylanders- you don't need to take all of your Skylander figures along with you on the go to have access to them. If you've played Skylanders before (or any toys to life game really), then you know that you have to add and remove the character's real-world action figures from the Portal to play as them in the game. With SWAP Force, you only need to do this once to load your Skylanders. After that, they're playable whenever and wherever you like- no figures required. You can also get Streetpassed 'guest' characters that you get to try out for a level to see if you like 'em, which I thought was a nice touch.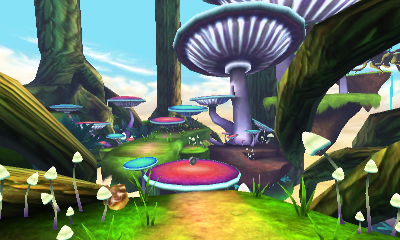 The figures are particularly nice this time around too. The SWAP Force figs in particular are well painted and have some great detailing to them – they also snap together with a nice satisfying 'click' thanks to their double magnets at the waist. Really all of the new generation of figures look good and are well made though. They're really cool little figures and they look just as good on a shelf as they do in the game.
Final Thoughts
Skylanders SWAP Force is not without its problems- an enemy failed to appear once and I couldn't proceed (though it didn't happen again) and at times the graphics definitely make the game look like the 3DS title that it is, but there's no question that this a really fun time if you're a platformer fan. SWAP Force, like the rest of the games in the series can be played over and over again as you pick up new Skylanders toys and work to level them up with new powers and abilities. It doesn't really get tired.
As for the title characters, I actually barely ever used the SWAP feature. While you can get some very interesting mixes of powers and abilities by mixing top and bottom halves of characters, I found that I just didn't need to do it to get through the game. Most of the time, I just played as my favorite characters from Giants and did just fine- though I will say that Blast Zone is particularly fun to play as with his jet boots and flame attack.
All of the previous two generations of figures are compatible with SWAP Force too, so feel free to add 'em all to your quest, after all, it's not like you have to lug a whole case around with you anymore.