The DIsney Store will serve as landing pad for a pair of new variant action figures from Diamond Select Toys based on the Iron Man 3 film, with the arrival of Battle Damaged Iron Man Mark 42 and the Iron Patriot.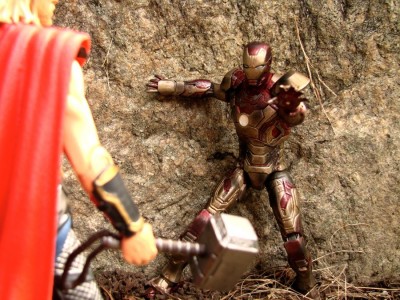 No, before you ask, Thor isn't included in this series- but it's a neat shot isn't it? What is included are both the Battle Damaged Iron Man Mark 42 suit and the War Machine evolution, the Iron Patriot. Both figures come with interchangeable unmasked heads and 'Hall of Armors' display bases and Iron Man also includes an extra pair of hands for some dynamic posing action.
Both new offerings from DST are also available right now at Disney Stores everywhere and on Disneystore.com and Marvelstore.com for those of you who like shopping from home over heading down to the mall.
Jason's been knee deep in videogames since he was but a lad. Cutting his teeth on the pixely glory that was the Atari 2600, he's been hack'n'slashing and shoot'em'uping ever since. Mainly an FPS and action guy, Jason enjoys the occasional well crafted title from every genre.