Get ready for the Goat- and some big time revelations.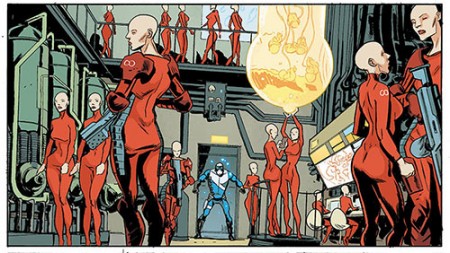 Bitterly divided and hopelessly outgunned, Quantum and Woody are getting torn apart! Literally! Can they get their #[email protected]% together before being shredded to atoms by the mysterious Crone and her super-science foot soldiers?! Probably not. But when a new ally emerges from the shadows, they'll find the strength to fight baaaaack.
So although Quantum gets the drop on those responsible for the twosome's father's death, it doesn't look like he fares all that well in the encounter, that is- until a certain four-legged friend shows up. Bottom line, fans of the classic Q&W comic know all about that goat and have been waiting for his arrival in the modern version of the comic since the book debuted earlier this year.
Now they've got their wish, and the Valiant Universe will never be the same.
Quantum and Woody #4 arrives from the creative team of James Asmus and Tom Fowler. Oh, and also awesome- have a look at that Valiant Level 2 8-bit variant by Donovan Santiago. Sheer Zelda-rific awesomeness. Also pretty nifty, Ryan Sook's 'Meet the Goat' alternate cover. There's no Zelda references, but still, it has a goat.