The Shadowman spooktacular is almost here with issue 11 and good lord to I want to play that Shadowman-themed Ghosts 'n Goblins variant cover!!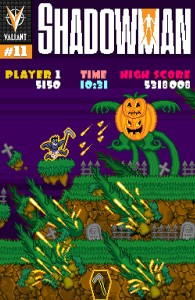 There are a total of three covers for the special Halloween-themed Shadowman #11 and all three of them are more than worth picking up. I have to say though, as a fan of the game it's based upon, I have a soft-spot in my heart for that Valiant 8-Bit edition.
I mean, seriously, just look at it! Come on guys, I need to play that – make it happen! iOS, PC, PSN, Xbox Live, however- I NEED TO PLAY THAT. Okay… that's enough about how awesome the cover is, here's your preview of Shadowman #11.
It's All Hallow's Eve in News Orleans – and Shadowman's about to find himself alone on the job, standing guard on the most dangerous night of the year. Still reeling from the fallout of his cataclysmic battle with Master Darque, can Jack go it alone and protect his city from the legion of evils that haunt the Halloween night?

By popular demand, it's a special October tale for Valiant's nocturnal guardian – and a standalone story that's perfect for new readers! And look for the special Shadowman #11 Halloween Mask Variant – featuring a fully detachable Shadowman mask designed by award-winning artist Rian Hughes!
Now I know that I went on… a bit… about the Shadowman 'Valiant Level 2 8-Bit' cover (a promotion that's running through all of Valiant's October offerings), but in all honesty, all three of the book's covers are pretty darned awesome. Aside from the G'nG cover, you've got the standard edition with the illustration of the reaper holding the SM-pumpkin and that freakin' cool Shadowman pop-out mask cover to round out the variants. Personally, I'll be picking up all three, but I'm biased as both a Shadowman and Halloween fan.
Shadowman #11 hits the stands on October 2nd from the creative team of Jim Zub and artist Miguel Sepulveda (who you might know from Red Lanterns). Oh, and that incredible 'Valiant Level 2 8-Bit' cover comes to you from the mind of Donavan Santiago. And that cool mask? It's from award-winning artist Rian Hughes. But you know, no pressure or anything to get all of them.