For a game as lauded as Dishonored, you had to figure that there was a Game of the Year edition on the way to retail shelves- and you'd have been right.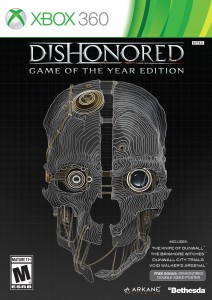 Okay, first of all, that cover is awesome. I love it and I think I'm going to ditch my vanilla copy of Dishonored just for that. Alright, now back to your regularly scheduled news report:
As you'd expect, this Game of the Year edition of Bethesda and Arkane Studio's acclaimed first-person action/adventure Dishonored includes all the bells and whistles that the standard version lacked when it was released last year. You'll find that all the dlc is in the box with this one as it includes the challenge-based Dunwall City Trials as well as the 'Daud' story expansions- The Knife of Dunwall and The Brigmore Witches. In addition to those additional gameplay packs, you'll also get the Void Walker's Arsenal add-on.
"Dishonored introduced a new world and cast of characters which have really resonated with gamers around the world since its release in October 2012," said Pete Hines, VP Marketing and PR, Bethesda Softworks. "We're now excited to offer people the opportunity to have all of this great content in one package."
As a publisher, Bethesda is no stranger to popular IP's. The company already had claim to Doom, Quake and the uber-popular Elder Scrolls series when Dishonored dropped in August of 2012. The game of assassinations in a grim, steampunk-like world definitely has found a home in the libraries of more than a few gamers since then and the story expansions, which star empress-killing assassin Daud, have added tons to and already strong game.
If you don't have Dishonored in your collection and have been eyeing it, this is the version to get. Or, you know, even if you have it already and just like that box art…
Dishonored: Game of the Year Edition jumps onto the Xbox 360, PS3 and PC on October 8th in the US and on the 11th in Europe, it'll cost you $39.99 USD. want to see what all the fuss is about before you grab a copy? Click here for our full review of the Xbox 360 version.