Yep, it's exactly what it sounds like- a life-absorbing RPG collection that'll probably have you chained to your PC for a few years at a time.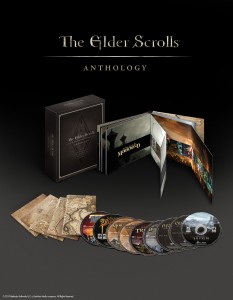 If you're a fan of Bethesda's The Elder Scrolls series, or if you've ever missed a release in its long history, boy are you in luck. The Elder Scrolls Anthology collects the entire series, from Arena to Skyrim, all in one package and complete with all the DLC.
How's this for complete:
The Elder Scrolls Arena
The Elder Scrolls II: Daggerfall
The Elder Scrolls III: Morrowind
o    Tribunal
o    Bloodmoon
The Elder Scrolls IV: Oblivion
o    Knights of the Nine
o    Shivering Isles
The Elder Scrolls V: Skyrim
o    Dawnguard
o    Hearthfire
o    Dragonborn
Five Physical Maps detailing the lands of Tamriel, Iliac Bay, Morrowind, Cyrodiil, and Skyrim.
For now, the collection is a PC only affair and is expected to be on store shelves on September 10th for $79.99. That might sound like a lot at first, but keep in mind that you do get five critically acclaimed titles here – plus a bunch of add-ons and those neato maps.
Don't want to lose you way while you're trekking across Morrowind after all.