Three generations of X-Men clash in a battle of the ages that's going to shake the Marvel Mutant U.
This is the big one- an X-tale that brings the original X-Men together with the current incarnation of the group and a future version who's come back in time to send Cyclops and his team back to the past.
Hank McCoy brought the original X-Men into the present in the hopes of changing the course of history and stopping Scott Summer's mutant revolution before it even begins. But as the young and confused X-Men try to cope with their devastating futures, the team begins to unravel from the inside. And just as mutant civil war is about to hit its boiling point, an unexpected third party comes in to change the game—the future X-Men! They've traveled back in time with a warning—the original X-Men need to go back to their rightful time or they will be the final nail in mutantkind's coffin. They risked everything to come to the past and won't leave until the All-New X-Men are back in the past.
Big, giant X-Men crossovers rarely disappoint and more often than not pull out all the stops. Battle of the Atom looks to be the biggest one in years too as it just flat out features a monster amount of X-Men. Not the least of those mutants is of course that original quintet that has proven pretty darned popular since their reinsertion into the Marvel Universe.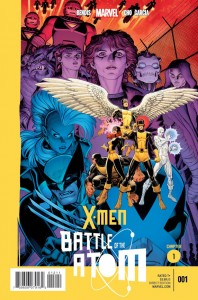 Unlikely allies, the involvement of SHIELD in some way and mucking around with space-time… this is one that you probably don't want to miss if you're an X-fan. The story will play out in ten parts and run through the gamut of Marvel's X-books, capped on both ends by issues one and two of the Battle of the Atom book itself. Here's your handy-dandy checklist:
Part 1: X-Men Battle of the Atom #1
Part 2: All-New X-Men #16
Part 3: X-Men #5
Part 4: Uncanny X-Men #12
Part 5: Wolverine & The X-Men #36
Part 6: All-New X-Men #17
Part 7: X-Men # 6
Part 8: Uncanny X-Men #13
Part 9: Wolverine & The X-Men #37
Part 10: X-Men: Battle of The Atom #2
Battle of the Atom erupts on September 4th from the creative team of Brian Michael Bendis and Frank Cho and Marvel Comics.