Dark Horse Comics unleashes a special Plants vs Zombies digital comic based on PopCap's famous franchise.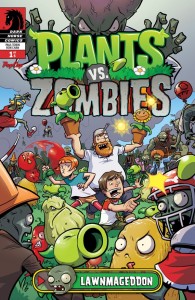 A mini-series event from Paul Tobin and Ron Chan, Plants vs Zombies: Lawnmageddon will run six issues which will be available digitally through a special PvZ app created by Dark Horse just for the limited run. The App will usually carry a .99 cent price tag (but will include issue #1), but is free for the remainder of the SDCC event. That means get it now, because on Monday the 21st it'll cost you just shy of a buck.
PvZ is a monster of a hit on just about every platform it's landed it's undead feet on and a comic to expand the off the wall universe that PopCap Games has created sounds like a pretty obvious step. Releasing it digitally first is also a pretty nice tip of the cap to the game's digital heritage on mobile platforms.
"We're excited to see Plants vs. Zombies come to life as a comic book miniseries from one of the industry's coolest and most innovative publishers," said Jeremy Vanhoozer, Plants vs. Zombies franchise creative director at PopCap. "With Plants vs. Zombies Adventures recently launched on Facebook, Plants vs. Zombies 2 becoming available for iPads, iPhones, and iPod Touch devices later this summer, and Plants vs. Zombies Garden Warfare shambling to market in spring of 2014, it's a great time to give the millions of Plants vs. Zombies fans around the world a new way to enjoy this beloved franchise."
Now, I say 'first' because there will indeed be a physical edition of the book. Coming this Fall, Dark Horse Comics plans on bundling all six issues together into a special deluxe hardcover tome that should be just about perfect for any fan of the growing series.
That's not till this Autumn though and the series is out right now. Both the first and second issues of the comic have already posted to the App and are available for purchase and download. Just remember, the first issue is free until Monday, so now's the time if you want the goods for naught.
As for the remaining four chapters in the Plants vs Zombies saga, here are your dates for release:
Chapters 1–2 are on sale tonight, July 17 (SDCC PREVIEW NIGHT)

Chapter 3 goes on sale July 24

Chapter 4 goes on sale July 31

Chapter 5 goes on sale August 7

Chapter 6 goes on sale August 14
And if you're waiting out that hardcover edition, it'll be on store shelves this November the 6th in comic shops, and on the 19th at bookstores.