Diamond Select Toys' Battle Beasts are making a return trip to the SDCC for 2013 with a brand new exclusive giveaway item and a look at series 2.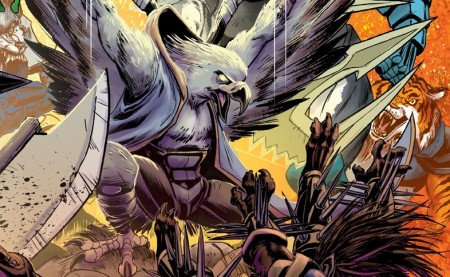 Battle Beasts have done pretty well for themselves since debuting at the Con in 2012. Diamond is actually prepping not only a second set of Minimates for the franchise, but also a comic book sequel to the hit first miniseries. Series two of the figures will be on display at DST's booth on the show floor in prototype form and there'll be a special panel discussion about the line where fans can find out what's next for the fighting beasties.

Fans can also snag a very cool giveaway item in the for of Shadow Merk. The 'shadow' variant of the falcon-like hero of the comic series is cast in translucent purple plastic and actually looks really cool. He's also going to be super limited with a set number of them to be given away at the start of each day of the show (except on Preview Night)- so you might want to get to Diamond's booth first when those doors open.
Diamond Select (and Merk) will be at booth #2607. If you're looking to sit in on the panel presentation, that'll be in room #8 at 1:30pm on Saturday afternoon.