Sam Alexander hasn't been a member of the Nova corps for all that long, but he's in for a trial by fire up against Thanos in Marvel's Infinity event.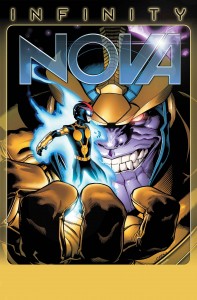 Writer Zeb Wells is about to take Nova into the fray with artist Paco Medina in Nova #8. The issue is a direct tie-in to Infinity and actually tosses the first punches of the event. Basically- expect to see Thanos and his new crew heading to the Earth, with Nova standing in his way.
"Thanos is not so subtly trying to pillage the Earth," explains Wells in an interview with Marvel.com. "Sam, as one of the few cosmic heroes still planet-side, figures he needs to step up to the plate."
Yeah that might be kind of rough for him, seeing as Thanos almost brought the entire universe to its knees at one time. And just because he doesn't have the Infinity Gauntlet anymore doesn't mean the big purple meanie isn't just as big a problem for Earth.
Find out just how big when Nova #8 drops onto stands this September.