Loads of cool stuff is on tap, as Diamond Select previews what fans can expect from the big return to NY Toy Fair.
All's Fair
It has been a while since we've seen a Toy Fair in NYC. Namely since Toy Fair 2020, when the show was more or less the final big event before the dark times of the pandemic took hold. BrutalGamer was there covering that show, and has a full slate of posts on it, if you'd like to take a trip down memory lane. That was then though, and this is now.
And since things have cooled and time has passed, the event will join a cadre of other shows in a return to action. As goes NYC's premier Toy Fair, that means preview of some of the hottest stuff-to-come, with tons of cool toys and collectible items aimed at 2024.
Right there with the biggest names is Diamond Select, which has cemented a spot for itself with an ever-increasing portfolio of licenses. From the looks of the teasing press release that the company just shared today too, it's seriously loaded.
Aside from all the Marvel and Star Wars stuff, fans can look for more AEW, more Muppets, and more Lord of the Rings in the new year. That's in addition to the likes of Rebel Moon, G.I. Joe, House of the Dragon, and plenty more. Scroll down to see the official word on what you can look forward to seeing, when Toy Fair commences this coming weekend.
Showing by way of DST at the Javits convention center this weekend, will be: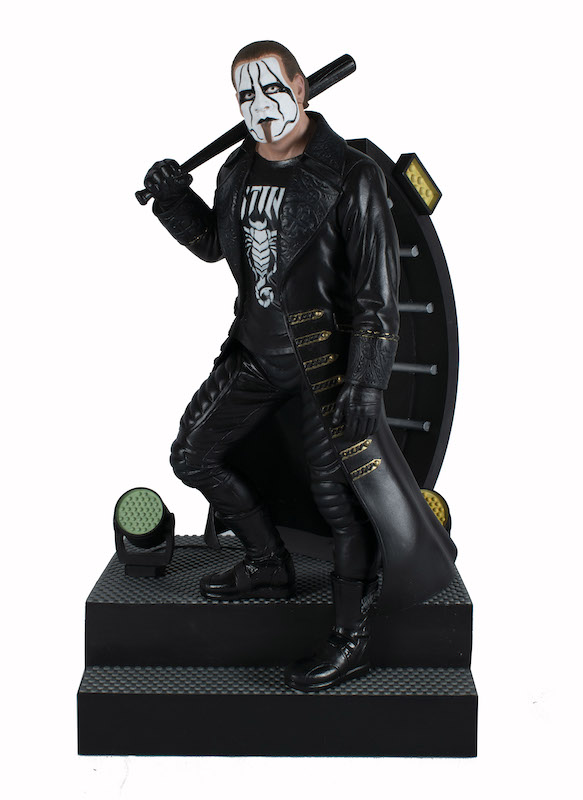 Marvel – Drawing inspiration from comic books, movies, TV and video games, DST and GG LTD offer a Marvel product for every type of collector – and every type of retailer! Keep an eye out for items based on the Spider-Verse, the upcoming film Captain America: Brave New World, as well as the upcoming Spider-Man 2 video game.
Star Wars – Gentle Giant LTD has captured the Star Wars universe in bust and statue form since 2002, and their fan base grows with every new release. With the Disney+ series Ahsoka blowing up screens everywhere, look for a surge of viewers to seek out GG LTD's upcoming sculptures based on the character and her world.
House of the Dragon – Based on the hit spin-off to George R.R. Martin's Game of Thrones, DST has deluxe action figures and Gallery Dioramas of various cast members, including Daemon and Rhaenyra Targaryen, as well as large resin busts of the dragons themselves!
Rebel Moon – Director Zack Snyder's upcoming sci-fi epic on Netflix has fans eagerly anticipating its Dec. 22 debut, and DST will deliver some equally anticipated collectibles, including action figures, Minimates and Gallery Dioramas!
Invincible – This Amazon Prime animated series from The Walking Dead creator Robert Kirkman may not be for kids, but its cast of superheroes and villains still make for great action figures, and DST is delivering a line that will have fans setting up battles as they wait for Season 2 to arrive on Nov. 3.
Teenage Mutant Ninja Turtles – With this famed franchise back on top in the wake of the Mutant Madness movie, DST's new Minimates multi-packs and Gallery Dioramas will make any fan of the classic kids' cartoon (and its modern comic book storylines) sit up and take notice.
All Elite Wrestling – Airing on major networks three times a week, the newest player in professional wrestling is also one of the top-rated, with an acclaimed roster of talent that is a perfect fit for DST's line of Minimates and Gallery Dioramas.
Lord of the Rings – In addition to DST's detailed Gallery Dioramas of the main characters and creatures from the smash hit film series, the popular line of LOTR action figures continues with more members of the Fellowship, and more of their evilest foes!
Indiana Jones – Celebrating the iconic adventurer's greatest moments, Gentle Giant LTD's collection of busts, statues and Gallery Dioramas will dazzle any fan of the franchise. Plus, they're bringing back their famous vinyl bank of the golden idol!
ALSO: The Muppets, The Matrix, G.I. Joe, Avatar: The Last Airbender, Pacific Rim, Darkwing Duck, The Walking Dead and more!
Diamond Select press release