It's time once again for a fresh dose of Call of Duty action, as Season 04 gets ready to hit Modern Warfare II and Warzone next week.
It's time for action
Whether you're still rocking the last update, or you're on a Call of Duty pause, the FPS' faithful should be excited to see that Season 04 is almost here. The latest round of additions to Activision's latest CoD sequel will of course be joined by more Warzone, for an update set to hit next week.
As usual, this'll be made available for all versions of Call of Duty: Modern Warfare II and Warzone, where applicable, and will be stocked with a little bit of everything. That means new maps (6 of 'em), new weapons, and new operators.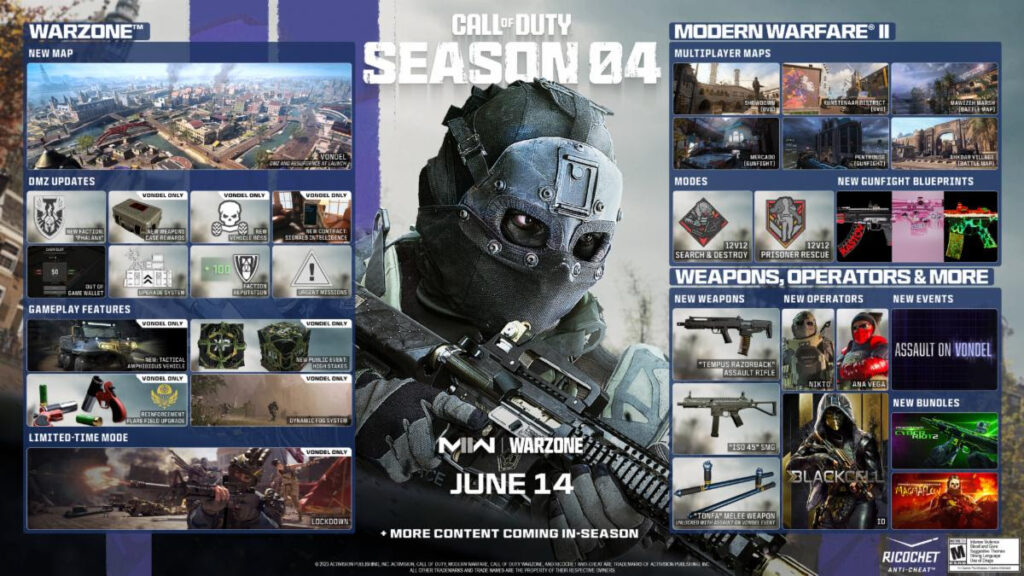 Included will be:
Warzone:
Welcome to Vondel. This medium-sized map is ready to host Resurgence, DMZ, and the Lockdown LTM at launch, with standard Battle Royale in-Season.
Over a Half Dozen New Features. Tactical Amphibious Vehicle (TAV) for Vondel, the return of Favorite Supply Boxes, a new Field Upgrade, and more.
The Sandstorm Continues in Al Mazrah. In addition to Vondel's introduction, Al Mazrah sees some slight topographical changes during Season 04.
A New, Full Ranked Season Arrives in Season 04. Ready yourself for a full Ranked Season with more rewards to claim.
More at Mid-Season, Including Traditional Battle Royale in Vondel, New Vondel Gulag. The action will only get hotter as we look towards a summer Mid-Season Update.
Modern Warfare II:
A Six-Pack of New Multiplayer Maps at Launch. Showdown. Kunstenaar (pronounced "khun-steh-nawr") District. Mercado. Penthouse. Mawizeh Marsh. Ahkdar Village. Plus one more Core MP map planned for mid-season.
Search & Destroy, Prisoner Rescue to Expand to 12v12 for a Limited Time. Expect the Playlist rotation to include these intense modes with double the number of players on each team.
A New Ranked Season. Rise and grind; shoot for a new top Division and unlock those cool Ranked Rewards as you prepare for the exciting conclusion to the Call of Duty League season.
Across both titles:
The Assault on Vondel Begins at Launch. Complete challenges to unlock new items not just for yourself, but also for the entire community, including a new melee weapon: the Tonfa.
New Weapons. In addition to the Tonfa, ready yourself with the Tempus Razorback Assault Rifle and ISO 45 SMG, both available for free in the Battlepass.
New Operators, Including Nikto. The masked ex-cover agent returns with a vengeance. Other Operators include a total badass working for SpecGru and .
Prestige Levels Continue, New Challenges Available. Reach Level 850 to unlock a special Weapon Blueprint.
Season 04 arrives for all versions of Call of Duty: Modern Warfare II and Warzone on June 14th.