Warhammer 40K fans eagerly awaiting Space Marine 2's arrival this year might want to get their pre-orders in. The Collector's Edition is ready.
In the far future, there's only merch
If you're a 40K fan, you already know all about Warhammer 40K: Space Marine II. The original title was one of the biggest video-game hits the IP has seen, after all. For some reason it took a long while to get a sequel greenlit, but it's finally inbound for some time this year.
Of course, there's a Collector's Edition to go along with that launch, and that particular version is ready for pre-order right now. Available via Focus Entertainment's online shop, the CE is pretty packed.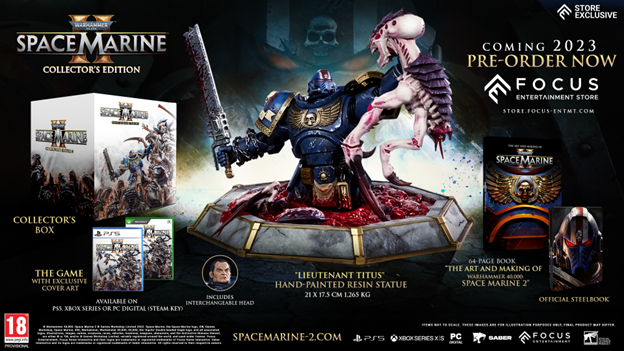 From the press release:
A Collector's Edition Blessed with Immense Power
The Collector's Edition of Warhammer 40,000: Space Marine 2 features prestigious collectibles packed inside a box sporting exclusive artwork and includes:
A statuette of Lieutenant Titus: an 8.25 x 6.7″ resin statuette with interchangeable head and helmet, finely detailed and entirely hand-painted
The game's official Steelbook®
A 64-page "Art & Making-Of" book, in English, illustrated by the talented team at Saber Interactive.
The game Warhammer 40,000: Space Marine 2 on the platform of your choice:

PlayStation 5 and Xbox Series X versions will be shipped as physical copies, with a Focus Entertainment Store-exclusive box art
The PC version will be sent digitally as a Steam download code

The "Macragge's Chosen" DLC
If you want to order one of these bad boys, there's a little something extra that you should know. While stock is plentiful right now, Focus tells us that orders placed February 17th or later will be "subject to stock availability and are not guaranteed for delivery on day one."
So, bottom line, if you want one (and you need to be playing on launch day) you might want to order asap. And if you can't do that, at least see you get it done by the 16th.
As for when that launch will be, we'll let you know.