Turtle Beach's Roccat line grows with the Kone Air, a mouse that promises to hit the marks of more expensive units, with a sliver of the weight.
You gotta love air Kone
I still tend to think of it as 'new', but Roccat has really been around for a while at this point. A spinoff of gaming-peripheral giant Turtle Beach, Roccat regularly produces all manner of gear for PC players, like mics, keyboards, headsets, and of course mice.
One of the company's newest is the Kone Air that we're looking at here. A lightweight gaming mouse, the Kone Air touts quite a few features. You won't find some of the more ostentatious ones that are typical to this specific genre of mice though, as the Kone wraps its feature-set in a slick, understated form factor.
So if you're looking for something that might be just as 'at home' being a work mouse as one used to pull off strings of headshots, read on.
Right at home
So as mentioned, the Kone Air does quite a few things, and could definitely be a mouse for all seasons, as it were. It's even packed with a pair of connectivity options to get you started.
The Kone Air will work via a 2.4GHz wireless connection, by way of a dongle. Dubbed Stellar Wireless, this is the mode for you if you'll be putting your favorite FPS through its paces. Using 2.4GHz, Roccat promises that the Kone Air will serve up an extra bit of low-latency responsiveness, for those who demand a little extra snap to their play.
Then on the flip side of that, there's Bluetooth mode, which eschews the extra oomph of the Stellar, but obviously has the technology's ease of connection. No matter what you're looking to use a mouse with after all, it likely supports Bluetooth.
For the record, I tried both Bluetooth and Stellar, and found both to be quite good. While we're talking about connections though, it's notable that the Kone Air isn't wired in any way. There's no option for old-school USB, which tends to be the most used method by those who consider themselves competitive players.
Honestly though, I've used both a wired and a wireless mouse for years and across several brands. I feel like I'm at the point where I can definitively say that I really have never noticed much of a difference. Just keep in mind that I'm no 'pro', but that's been my experience.
It's also probably worth mentioning that there's no charging cradle with the Kone Air. The mouse uses either 1 or 2 (more on that in a second) standard AA batteries, and not rechargeables (out of the box). So if that's something that you're looking for, you would have to pick up a set separately.
Time to go to work
Over the last week, I've used the Kone Air across several games, and it's performed pretty darn well. While I'll leave the name out, I normally use a gaming mouse from another brand that's a bit more expensive, and I haven't noticed any difference whatsoever.
I ripped through a bunch of my favorite PC titles with the Kone Air, taking aim and wiping out hordes of foes handily. Then I cranked up the difficulty and got promptly annihilated, but you get my point.
The mouse features a Titan Optical Switch, which provides both fast input, and an excellent (advertised) lifespan. Roccat says that the Titan will net users 100 million clicks, which is pretty impressive.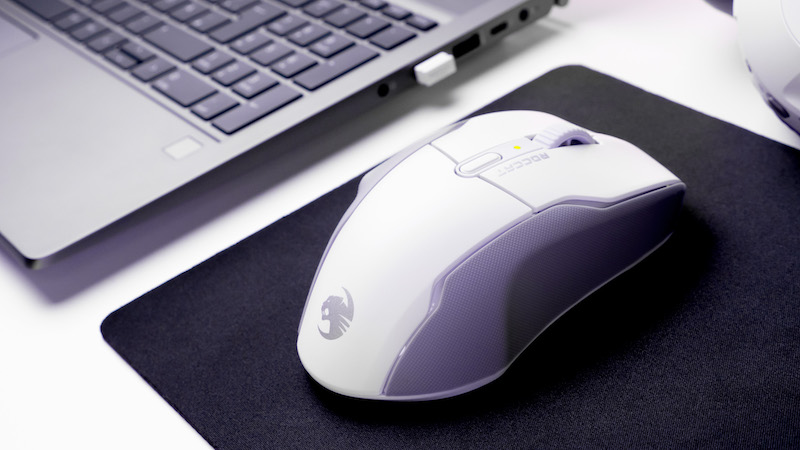 On top of that, the Kone Air has Roccat's own Owl-Eye 19k DPI optical sensor built-in. And for even smoother mousing, has a set of "heat-treated" glides on its belly, that make for some very nice movement. I tried the mouse with both fabric and hard mats, and performance was great on both. It made a bit of swishing noise when moved across the hard mat, though that's kind of nothing new.
One off the coolest features however, that I have to mention, is that battery situation. You already know that the Kone Air uses standard AA's, but interestingly you can use either 1 or 2. And yes, there's a reason.
The idea is that one battery will get you a lighter weight, with an eye on portability and movement. It really does make a difference, as the Kone Air is remarkably light with just one power cell inserted. Still, you may want to use two, since doing so will result in a shocking 800 hours of life.
Form and function
As I mentioned above, the Kone Air isn't a flashy piece of electronics. It's almost muted in its design, with a matte plastic body and some very nice comfort grips so your hand doesn't slide around on it. It maybe has a little more flair when it comes to the white/gray model, than the all-black, but either way it's a very mature looking mouse. You won't confuse the Kone Air with one of its RGB-covered cousins (and that's no slight to RGB, BTW).
But even with the muted visuals, the Kone Air isn't light on features. We already looked at some of those, but there are plenty of inputs we haven't even begun to cover yet. And in that regard, it's excellent.
Of course though, there are a few things that all modern mice (pretty much) have. Those being the left and right buttons and center scroll-wheel. But the Kone Air has 4 additional buttons on top of those.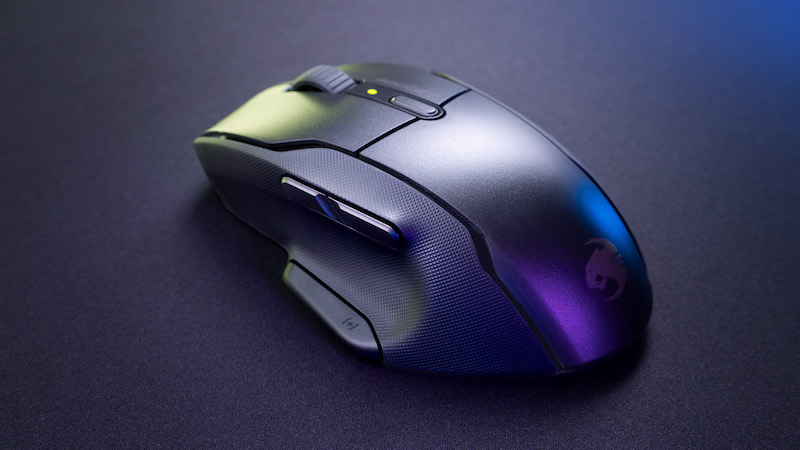 Right in the center, you'll find a DPI switch. Pressing this will cycle through how fast your Kone Air will react to movement. The least of the settings will result in a pretty sluggish pace (intentionally), while the highest will have you thinking you've somehow entered the Speed Force and are in fact the fastest man/woman alive. I continue to be amazed by the higher settings on these mice, as I can't quite get a handle on who'd be subtle enough in their mousing to use them.
But that's me, and it's still nice to have the option of Ludicrous Speed. For the record, I used the second notch mainly, and found it to be fantastic for pretty much all FPS', while the slightly zippier third notch was solid for strategy titles, where you don't want to be picking up and re-placing the mouse every few seconds.
Other than the switch, there are forward and back buttons (accessible via thumb), and the Easy Shift [+] button. Something altogether new, Roccat's Easy Shift [+] gives the Kone Air a heck of a lot of customizability. Users can effectively program each of the Kone Air's buttons to what they like via this, and flip back and forth between standard and special operation modes.
Overall
I found very little to dislike here. The Kone Air is a gaming mouse, and has a lot of what you'd expect it to, but it's also just a nice looking mouse. I'd honestly have it on my desk at work just as much as I'd plunk it onto my decidedly more fun-oriented gaming station at home.
And on top of that, it kicks some serious butt when it comes to actual operation. The mouse easily competes (maybe more than competes) with the one that I've been using, and is ridiculously comfortable, with a phenomenal and slightly larger than usual sculpt. If you're in the market this Holiday Season, add this one to your list.
A Kone Air was provided to BG by Roccat for this review
Kone Air gaming mouse
Release date: November 15th, 2022
Manufacturer: Roccat
Platform: PC
MSRP: $69.99 USD
Rock and Roccat
Ease of setup - 95%
Use - 90%
Proficiency - 87%
Roccat's latest gaming mouse is one that could fit almost any setting, with a sleek look that leaves off the gaudier elements of some others. But the look belies the heart of a champ, with some excellent tech-powering it and a host of buttons and functionality. And did I mention the 800 hours of battery life?