It's seeing up to be another big month for Prime Gaming subscribers, as the PC gaming service delivers big name freebies, as well as streaming titles.
It's a Far Cry
Yes, it's a Far Cry kinda month that's coming up for Prime Gaming subscribers. I'm referring to Far Cry 4 in particular, which is available both as a free downloadable game, and an Amazon Luna streaming title. So if you've never played it, now is certainly your time.
Of course the action doesn't stop there though. Another month brings another Monkey Island adventure to Amazon's service. This time it's Escape from Monkey Island, which I believe was pretty well received. Honestly though, they're all classics, so you can't really go wrong if you're into point-and-click adventures.
Past those two, there's also WRC 8, and a nice assortment of Luna titles. Those are available for subscribers to stream as much as they like for the month, and they also include FC4, along with Lumines Remastered, Moving Out, Bloodrayne 2, and more.
Want more? Well you're in luck, because this June also brings a bunch of downloadable add-ons for games like "Apex Legends, Fall Guys, PUBG: Battlegrounds, Roblox and more." Oh, and did I mention exclusive content for Pokemon GO? Well, it's here too.
Scroll down for the complete list of what you'll be able to get for your PC in a little under a week.
Prime Gaming free games: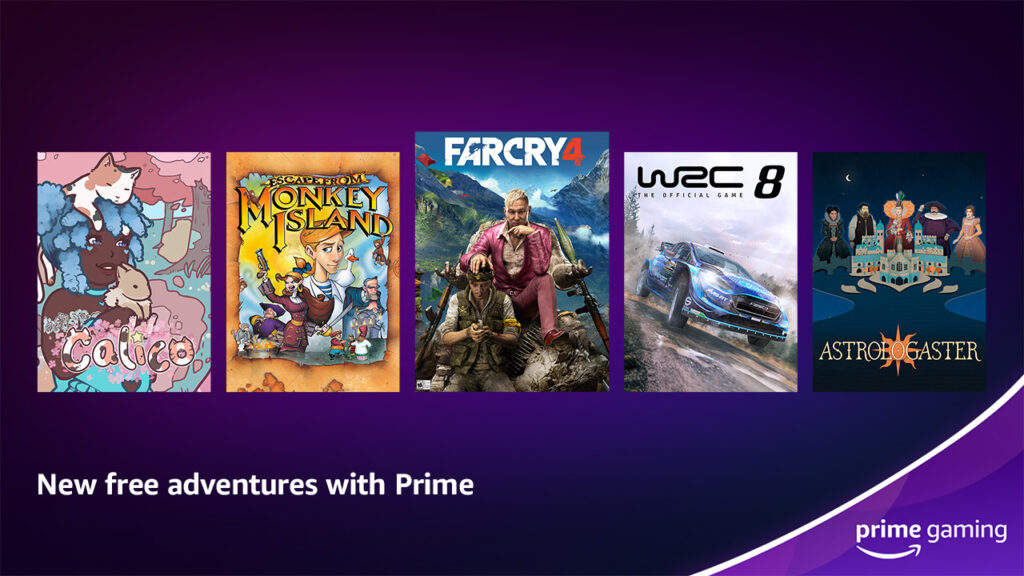 Far Cry 4 – Take on the role of Ajay Ghale and travel to Kyrat, a country soaked in tradition and unrest, as players attempt to fulfill his mother's dying wish while getting caught up in a civil war along the way.
Escape from Monkey Island – As Guybrush Threepwood and Elaine Marley return from their honeymoon, they're met with a mysterious stranger, Charles L. Charles, who organizes a campaign to steal Guybrush's title of governor. Explore exotic islands and solve mystifying puzzles on your quest to return things to the way they once were in Escape from Monkey Island™, the fourth in the legendary Monkey Island series of graphic adventures!
Astrologaster – Laugh your way through Shakespeare's London as players take on the role of 'Doctor' Simon Forman who treats his patients using the peak of modern medicine, astrology. 
Across the Grooves – Travel across European cities, meeting colorful characters and solving the mystery of Alice's destiny by drastically changing her reality and allowing her to explore alternative destinies by modifying her past. 
Calico – Embark on rebuilding the town's cat café in this day-in-the-life community sim game, filling it with cute and cuddly creatures! Build up the café by filling it with furniture, fun decorations, yummy pastries and get it bustling with animals again. 
WRC 8 FIA World Rally Championship – Zip through 14 countries on 100 tracks as players enjoy the most complete and authentic official WRC simulation yet, equipped with new physics for all surfaces, a completely redesigned career mode, dynamic weather conditions and more.
Amazon Luna's Prime Gaming Channel June Offerings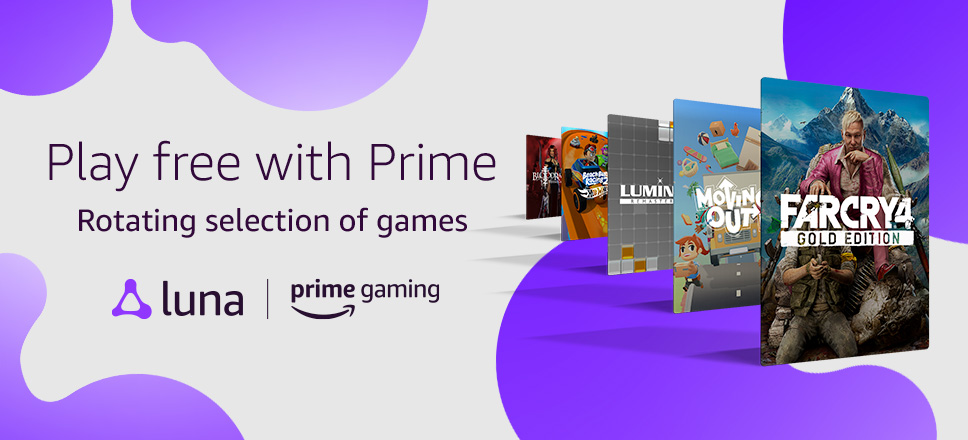 Starting on June 1, Prime members will have full access to a new slate of popular games on the Prime Gaming Channel, including Moving Out, Lumines Remastered, Beach Buggy Racing 2: Hot Wheels Edition, BloodRayne 2: Terminal Cut and Far Cry 4. Stay tuned in the coming months for additional Prime Gaming Channel offerings via Amazon Luna!

Amazon Prime Gaming press release
New Content from Niantic's Free to Start Hit Pokémon GO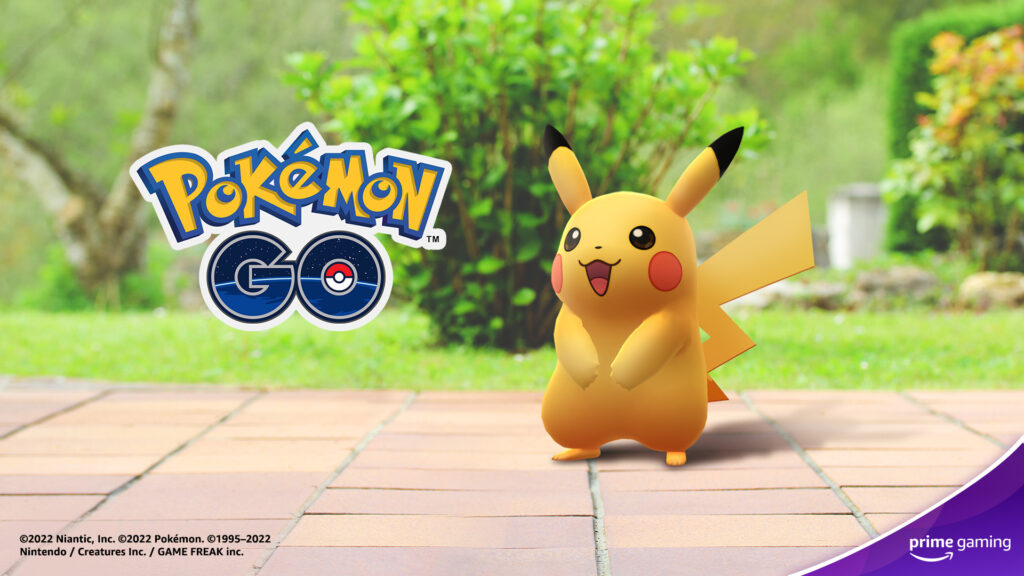 Prime Gaming announced that they have teamed up with Niantic, the world's leading augmented reality company, to bring Amazon Prime members even more in-game content for the free-to-start hit mobile game, Pokémon GO. With the recent May Community Day and Pokémon GO Fest 2022 just around the corner, these items are sure to be useful!

Over the next several months, Trainers who are Prime members can claim bundles of bonus items—including Poké Balls, Max Revives, and more—in Pokémon GO every two weeks, and Prime members can now claim the first of these bundles, featuring 30 Poké Balls, five Max Revives, and one Star Piece. 


To redeem the Prime Gaming Pokémon GO content visit the link found here, and for additional details please visit the Prime Gaming blog.

Amazon Prime Gaming press release
June 2022 Calendar
Amazon Prime members can look forward to even more great content throughout the month of June, including new in-game loot and content drops for Call of Duty, FIFA 22, Overwatch, Fall Guys and more! Be sure to check out the full lineup at gaming.amazon.com.NOW AVAILABLE Apex Legends – Newcastle Stone Skies Bundle


Amazon Prime Gaming press release
NOW AVAILABLE Battlefield 2042 – Noobmaster Bundle
NOW AVAILABLE Black Desert Mobile – Prime Holy Vial of Light Chest
NOW AVAILABLE FIFA 22 – Prime Gaming Pack
NOW AVAILABLE GWENT – 1 Ultimate Premium Keg, 1 Premium Legendary Card
NOW AVAILABLE Hearthstone – Standard Card Packs (x3)
NOW AVAILABLE Madden 22 – Prime NFL Draft Pack
NOW AVAILABLE Overwatch – Legendary Loot Box, x3 Standard Loot Boxes
NOW AVAILABLE Pokémon GO – Prime Gaming Bundle
NOW AVAILABLE PUBG: Battlegrounds – 1 Silver G-Coin Box, 10 Contraband Coupons, 30 Polymers, 1 Level 2 Boost, 15,000 Battle Points
NOW AVAILABLE Rainbow Six Siege – 7 Day Renown Booster
NOW AVAILABLE Roblox – Virtual Nomad Bundle
NOW AVAILABLE Splitgate – EPIC Nebula Armor, Jet Pack, Portal Gun, and Legendary Zeus Rocket Launcher
NOW AVAILABLE World of Tanks – Exclusive Commander Ragnar Bjornson, 1 Viking-Themed Medal and Decal, 1 Choice of Rental Tanks, 1 Day of WoT Premium Account, 1 x5 XP Missions
May 31 COD Mobile – Merc 5 Bundle
May 31 Last Chance to Claim Dead Space 2, The Curse of Monkey Island, Out of Line, Mail Mole + 'Xpress Deliveries, Cat Quest, Shattered – Tale of the Forgotten King
May 31 Lost Ark – Leaf Ornamental Chest, Crystaline Aura (5 day use), Amethyst Shard Pack (500 shards)
June 1 Amazon Luna April Prime Gaming Channel Titles – Moving Out, Lumines Remastered, Beach Buggy Racing 2: Hot Wheels Edition, BloodRayne 2: Terminal Cut, Far Cry 4
June 1 Free Games With Prime – Far Cry 4, Escape from Monkey Island, Astrologaster, Across the Grooves, Calico, WRC 8 FIA World Rally Championship