Apparently not in it already, DC Comics' leading lady is heading into the Comic Con Character Hall of Fame. Wonder Woman gets the nod next month.
She's a Wonder
Forget female superheroes, Wonder Woman is easily one of the greatest superheroes of all time. She's been a staple DC Comics' hero, battling just about every heavy-hitting villain that the DCU stocks, and a mainstay in DC's premier super-team, the Justice League.
So how is Wonder Woman not in the Comic Con Character Hall of Fame already? I have no idea, but whatever the reason, it's her time. The grecian hero is making her way into the exclusive club for her 80th anniversary.
There will be a virtual ceremony on October 21st, that will see the amazing Amazon inducted. But that's very far from all that'll be happening to celebrate eight decades of Wonder.
DC has a monster slate of happenings, across the rest of 2021, aside from this induction. That includes digital fare, merchandise, and of course comic books. Scroll down to read through it all, though you might want to grab a beverage or a snack first.
'Cause there's a ton.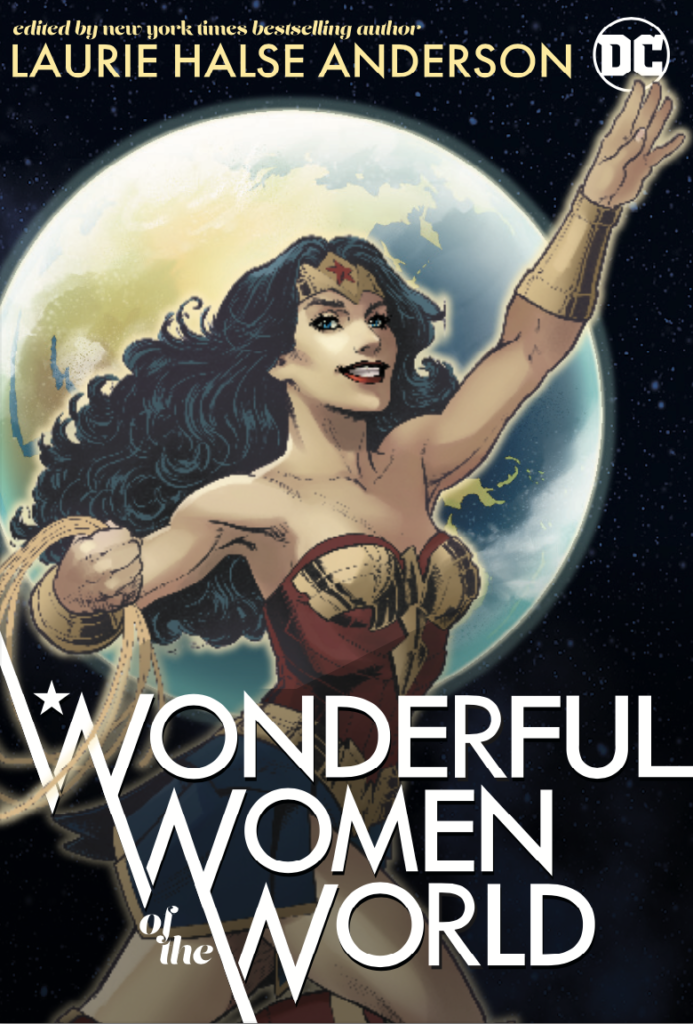 WONDER WOMAN'S VIRTUAL INDUCTION INTO THE COMIC-CON MUSEUM CHARACTER HALL OF FAME
To celebrate the 80th Anniversary of Wonder Woman, the iconic Super Hero is being inducted into the Comic-Con Museum Character Hall of Fame, in acknowledgement of her incredible legacy and influence on pop culture. Fans around the world can tune-in to the Comic-Con Museum YouTube channel on October 21st and celebrate with DC and the Museum in a toast to the character, with comics creators, talent shout-outs, and more fun moments!
WONDER WOMAN IN COMICS
DC is honoring the iconic character's 80th anniversary with a vibrant collection of commemorative releases, free editions and new series launches all starring DC's Champion of Truth and Warrior for Peace—with titles to be released in time to celebrate Wonder Woman Day on October 21, and beyond.
Wonderful Women of the World is an inspiring anthology showcasing 23 trailblazing women around the world. Tales of the real-world heroes who take up Princess Diana of Themyscira's mantle and work in the fields of science, sports, activism, diplomacy, and more include Beyoncé, Serena Williams, Ruth Bader Ginsburg, Greta Thunberg, and Malala Yousafzai, amongst others. The book is available in comic book shops and bookstores today.
Wonder Woman: 80 Years of the Amazon Warrior follows Wonder Woman from her first appearance through some of her most incredible battles in this hardcover special edition spanning over 400 pages.
Wonder Woman 80th Anniversary 100-Page Super Spectacular will bring together some of the greatest storytellers in comics and entertainment for a tribute to Wonder Woman in a collectible keepsake. Available on October 5, fans can look forward to original stories and a beautiful art montage by Eisner Award-winning artist Yanick Paquette with colors by Nathan Fairbairn.
Nubia and the Amazons follows the ongoing adventures of Nubia after the thrilling events of Infinite Frontier. The new series launching on October 19, is written by Vita Ayla and Stephanie Williams with art from all-star artist Alitha Martinez. After Nubia becomes queen of Themyscira, she is faced with new challenges including the unexpected arrival of new Amazons. As this hero is forced to reckon with her past, she must forge a new path forward for her sister. 
Launching on November 16, comes the highly-anticipated Wonder Woman Historia: The Amazons. The new series by writer Kelly Sue DeConnick and artist Phil Jiminez will explore the ancient history of the Amazons. Book One will be released November 16 with Jimenez's artwork. Book Two and Three will be released in Spring and Fall 2022 respectively with artist Gene Ha on Book Two and Nicola Scott on Book Three.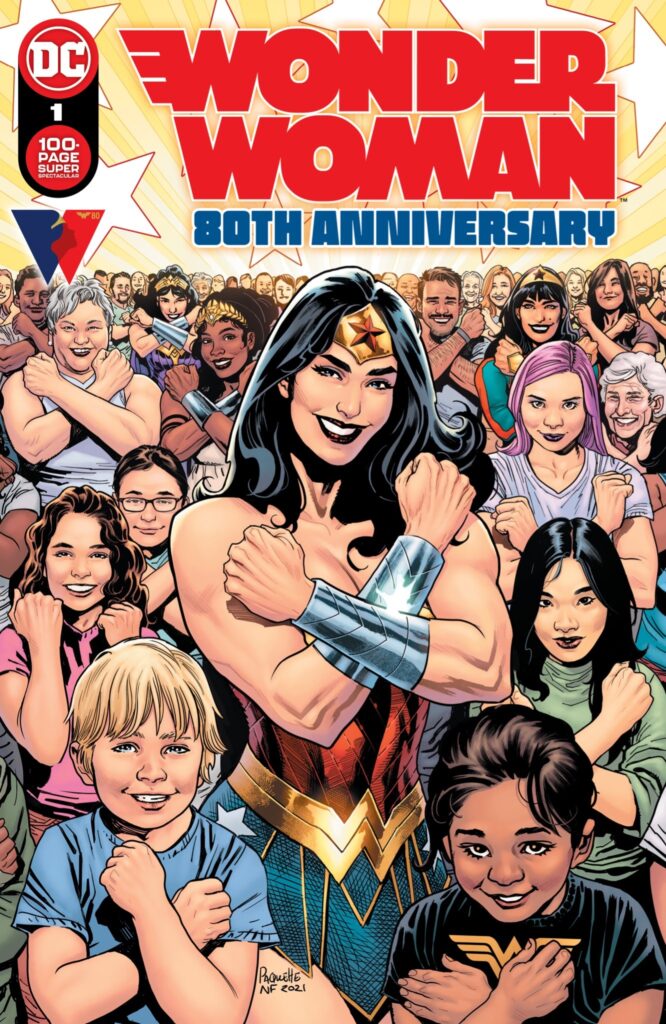 WONDER WOMAN FASHION, EXPERIENCES, AND MORE
Wonder Woman inspires fans around the world, and, to celebrate her 80th anniversary, DC and Warner Bros. Consumer Products have partnered with international designers and premier partners including:
Echelon, the connected fitness company revolutionizing the way people move, will unveil an exclusive line of Wonder Woman-branded apparel and fitness equipment in the United States—including a jump rope Lasso of Truth. In addition, Echelon will host two warrior-themed cycling and rowing classes on the Echelon Fit mobile app on Wonder Woman Day. Echelon is also a sponsor of the Wonder Woman Virtual Run Series, which fans canregister for now. 
EleVen's "I Am Wonder Woman" activewear line by international tennis champion and entrepreneur Venus Williams is available now.
Zales crafted a stunning collection of Wonder Woman jewelry, with classic and modern pieces for the whole family to enjoy that celebrate the Amazonian princess.
María Escoté recently launched an explosive fashion line in Spain that blends Wonder Woman's themes of empowerment and positivity with Escoté's colorful, energetic, and sophisticated stylings. 
In France, La Redoute selected four unique designers (Vanessa Seward, Mossi, Sakina M'Sa, and Elise Chalmin) to create modern capsule collections, each one spotlighting Wonder Woman's emblems/symbols as a representation of what it means to be a pop culture icon. 
Marina Hoermanseder answered the Amazonian call in Germany, creating a collection of bespoke pieces that bring the high-end details of Wonder Woman's warrior culture to life in a truly elegant way. 
MGI (Millionaire Group Indonesia) designed a one-of-a-kind Wonder Woman bracelet with Germanium stone that combines luxury design with the strength and durability of Themyscira's Champion.
India-based designer Nivedita Saboo will release a beautiful custom couture collection in late October, which is inspired by Amazonian sisterhood and Wonder Woman's commitment to togetherness as well as making the world a better place.
Animale, a trend-setting fashion company in Brazil, will launch a special collection of Wonder Woman 80th anniversary items to celebrate the global community of Wonder Woman fans.
Additionally, the Brazilian DC Store will debut an exclusive suite of products to commemorate 80 years of Wonder Woman storytelling. Other official partners in the region like Havaianas, Riachuelo, and Marisa will join in the celebration too with their very own merch drops, while Yescom will bring the Wonder Woman 80th Anniversary Virtual Run to homes and neighborhoods all around Brazil in October to coincide with Wonder Woman Day.
And be sure to check out the DC Shop for Wonder Woman 80 apparel and exclusives, including a Wonder Woman 80 Funko Pop! available October 5th.
WONDER WOMAN NOW
Fans can watch and read Wonder Woman content on various platforms including:
A massive catalogue of Wonder Woman film and TV releases including Wonder Woman, Wonder Woman 1984, Wonder Woman (TV Series), Wonder Woman: Bloodlines, DC SuperHero Girls and more are available for streaming now on HBO Max. 
Cartoon Network will celebrate the Princess of the Amazons with a special episode of Teen Titans Go! airing on Saturday, Oct. 23 at 9:00 a.m. ET/PT. In this special episode titled, "DC," the Titans head to DC's headquarters to celebrate Wonder Woman's 80th birthday party.
In Justice Society: World War II, Stana Katic leads the cast as Wonder Woman. She meets The Flash and the team of Golden Age DC Super Heroes known as The Justice Society of America. Available now on Digital, Blu-ray & 4K.
DC honors the creation and legacy of Wonder Woman making Wonder Woman #1 (1942), Wonder Woman #1 (1986), Wonder Woman #1 (2011),Wonder Woman #1 (2016), Wonder Woman #750, and Wonder Woman #760 free to read with registration on the ultimate fan destination for DC:DC UNIVERSE INFINITE.
WONDER WOMAN IN INTERACTIVE ENTERTAINMENT
In celebration of all Wonder Woman characters, Injustice 2 Mobile will introduce the newest variant – Classic Wonder Woman – in October as an all-new powerful Gold character designed based off of her early comic book appearances. Fans will also be treated to an entire slate of Wonder Woman-themed special events and free rewards.
WONDER WOMAN AROUND THE WORLD
In honor of Princess Diana of Themyscira, DC and Warner Bros. have once again teamed up with the City of Burbank, this time, to unveil a statue of the Super Hero in Burbank, CA. Based on a DC Direct statue by acclaimed Wonder Woman cover artist Jenny Frison and digitally sculpted by John Gabriel Mathews, the Wonder Woman statue will be brought to life in 2022 by Visit Burbank in partnership with DC. Stay tuned for more details!
Global experiences inspired by Wonder Woman including a "Believe in Wonder" event in the U.K. Focusing on Wonder Woman's Spirit of Strength the event will bring Wonder Woman's legacy to life through activities for all the family to enjoy.
Wonder Woman will be celebrated in Italy through a collaboration with Gruppo 24 Ore that celebrates the anniversary of the heroine through an exhibition "WONDER WOMAN The myth" hosted at Palazzo Morando, Milan. The exhibition will open to the public on November 17, 2021 and it will close on March 20, 2022. Accompanied by the claim #wonderseitu, the project – the first of its kind in Italy – explores Wonder Woman's character and her 80 years of history, with an interdisciplinary approach that touches on several fields, from illustration to comics and the cinema, from pop culture to fashion. The exhibition journey will be articulated in sections mixing original comics and tables, video-installations,costumes and props from the big screen universe.
Spain will feature WONDERWOMANxMARÍAESCOTÉ, a collaboration with DC and Warner Bros. Consumer Products, that is a nod to female empowerment, a very personal and colorful vision of the DC character through the creative and optimistic universe of the Catalan designer. María Escoté The collection will invite fans to see the world through the eyes of Wonder Woman and will be an ode to feminism, designed for the everyday woman who, deep down, is unique.
On October 8, fans in France will be treated to a special "Wonder Woman 80th" panel on CannesSeries.com with an exclusive digital masterclass with Lynda Carter. Additionally, Wonder Woman 1984  will make its debut in French theaters on October 21 through a one-time only screening in a secret place … Stay tuned for more! 
Chilean fans can celebrate Wonder Woman in style with a special make-up kit partnership with PETRIZZIO. 
Colombia, Peru and Ecuador will feature Social Media activations and will release Wonder Woman apparel for children and adults.
WONDER WOMAN ON SOCIAL MEDIA
Bringing the celebration to TikTok starting on October 16, DC and Warner Bros. will launch the #WonderWomanSpinChallenge where fans can 'spin into their super self!' Make sure to tune into DC FanDome to find out more!
THE HISTORY OF WONDER WOMAN
Wonder Woman first appeared in All Star Comics #8 on October 21,1941 in a back-up story meant to test her appeal at a time when female Super Heroes were rare. An instant favorite, Wonder Woman was soon headlining her own standalone title less than a year later. Subsequent generations came to know the Amazonian princess with silver bracelets on her wrists and a magic lasso by her waist via her hit 1970's television series as well as roles in animated shows and movies. The groundbreaking 2017 film Wonder Woman by director Patty Jenkins and starring Gal Gadot was the largest grossing live action film ever for a female director at the time of release. The sequel, Wonder Woman 1984 premiered on HBOMax and in theaters globally December 25, 2020.  Warner Bros. Pictures confirmed the third Wonder Woman movie starring Gadot will also be written by Jenkins.
Fans can delve into the history and enduring influence of the iconic character this October with the "Wonder Woman Authors & Talent Panel" on DC Community.

Don't miss DC FanDome on October 16 for more Wonder Woman 80th Anniversary content and commemoration! Follow DC on Twitter, Instagram and Tik Tok for more information on all things Wonder Woman 80, and check out  www.WonderWoman80.com for the latest information on Wonder Woman 80.

DC Comics