Transform and… find a lace to out this monster of a statue from Pop Culture Shock. The Autobot known as Grimlock is ready to be pre-ordered.
Me Grimlock king!
Yes indeedy, this one's a beast. Pop Culture Shock's latest piece to spin out of the venerable Transformers franchise is a Generation 1(ish) vision of Grimlock. The Dinobots commander, and king in his own mind, Grimlock is looking like he'd easily be the centerpiece of almost any Transformers collection.
At a monster 30″ high, and 24″ wide, this statue will take up a serious footprint. Though would you really have it any other way? This is Grimlock after all. And for a bot that turns into a T-Rex, he's got to be as gigantic as possible.
Speaking of, one of the coolest (and honestly pretty unique) features of this piece is that you get both of Grimlock's modes.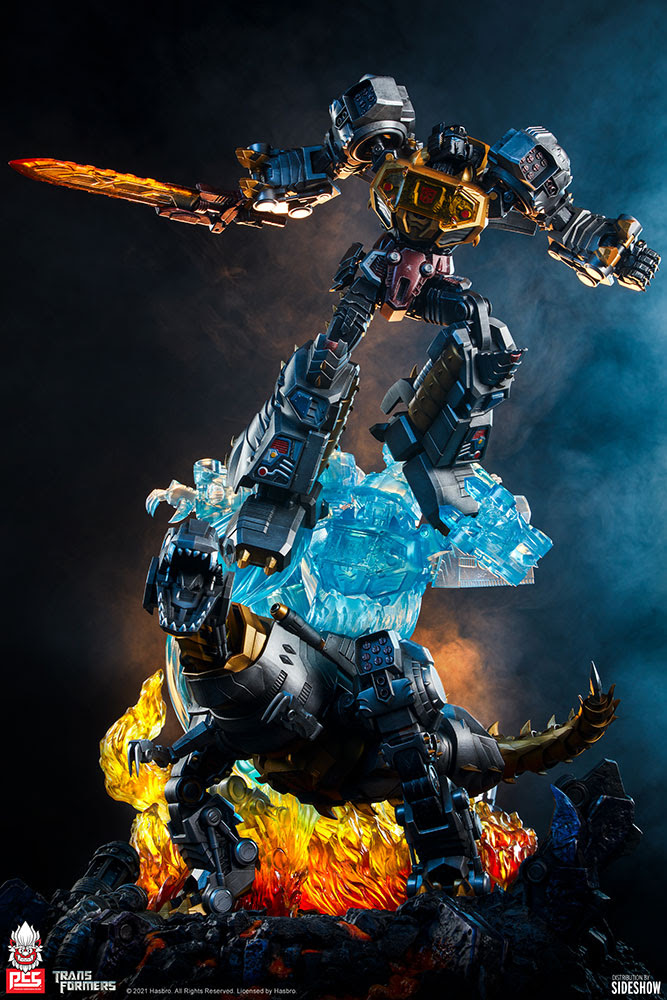 The Grimlock Deluxe Statue measures 30" tall and 24" wide in a unique display that captures the dual strength of Grimlock's Dinobot and alternate Autobot form. The leader of the Dinobots swings his mighty tail in Tyrannosaurus form, opening his jaws wide in a mighty roar. Above him, the more traditional Transformer Grimlock wields his energo-sword as he leaps into battle. A clear blue element embodies the evolution between designs, giving fans a dynamic look at the fearless fighter in action on a prehistoric environment base.

PCS
As mentioned, Grimlock is ready for pre-order now, via PCS' retail partners at Sideshow Toys. The statue is priced in at $1850 USD, and is scheduled to ship out some time next fall. Check him out here.