There's trouble in Westview. Hit-end action figure company Hot Toys has S.W.O.R.D.'s reVision of the famed Avenger ready for pre-order.
A new vision
This whole action figure announcement would have been a spoiler not all that long ago, as the white version of Vision was the 'end boss' of Disney Plus' WandaVision. The show had seen Scarlet Witch set up an alternate reality of sorts, in the small town of Westview, NJ.
This came about by her use of chaos magic of course, which was explained in the show. In the town, Vision was very much still alive, having never been killed by Thanos, and the pair even had children together. That all came crashing down though, when Agatha Harkess made her presence known, and S.W.O.R.D. reactivated the original Vision.
Other than the looks, which resembled the classic second iteration of Vision in the comics, the new Vis was not very nice. He was programmed to eliminate Wanda's Vision-recreation, and capture the Witch herself.
The newest announcement from Hot Toys is just that version of the former hero. He comes complete with all-white outfit, as well as a snap-on energy blast for his light-up forehead gem, and a stand.
The Vision is set to ship out in the third quarter of 2022, and is priced in at $250 USD. Check him out on Sideshow Toys web-shop, and get your pre-order in if you so desire.
Full details below.
The 1/6th scale The Vision Collectible Figure specially features: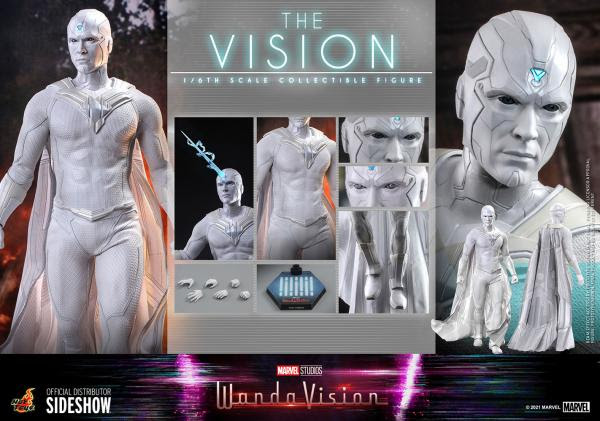 An authentic and detailed likeness of The Vision as he appeared in WandaVision
A newly developed, individually hand-painted head sculpt with detailed skin texture
LED light up function on forehead (battery operated)
Two sets of interchangeable eyepieces emulate the character's appearance before and after he acquires Vision's memories
Specially applied gradient white skin tone and blue mechanical elements on the forehead to reflect The Vision's distinctive appearance
A 1/6 scale body with over 30 points of articulation
Six interchangeable hands for a variety of posing and display options
A custom-tailored fabric full body suit with detailed texture
A detailed and patterned fabric cape
One pair of white gauntlets
One pair of white colored boots
One energy beam effect accessory (attachable to head sculpt)
A specially designed figure display stand with character name plate and backdrop
Want more of WandaVision? Hot Toys has collector figures of Wanda herself, and the original Vision too. Both are up for pre-order as well, and both are expected to ship out in the same 3rd quarter, 2022 timeframe as the above.
Check out Wanda Maximoff here, and Vision here.