In another first for BG, this week we took a look at the Champion Series gaming chair from E-Win Racing. If you're looking for comfort, you've found it.
Playing with comfort
If you're anything like I am, then your PC is likely accompanied by a chair that's not specifically made for gaming. Actually, if you're anything like me, then you have a chair that's not even made for sitting at a desk.
The seat that usually accompanies my PC is a chair chair. It's basically just a seat that's low enough to be usable while typing and mousing around. That however, was less than ideal.
And it's a night and day difference from what an EwinRacing gaming chair provides. Basically, it's the most comfortable piece of furniture I've ever used for gaming.
Setting up
Have you ever picked up some furniture from Ikea? Well if you have, then you're likely to have a solid grasp of what it's like to assemble the Champion Series.
Opening up the large and heavy box, I was presented with a bunch of hardware, the chair in several pieces, and an instruction booklet. Right off the bat, I have to say the instructions aren't the deepest of things, though they're still fairly easy to follow.
I guess it does pay to have some experience with furniture assembly though. I have quite a bit of that at this point, so aside from putting something on backwards at one point, I was good to go. If you're not used to this stuff, you might want to have someone who is help to slap the chair together, if for nothing else than to assure minimal aggravation.
One very nice part, is that all of the necessary tools are included. It's actually just a pair of Allan Wrenches, but it's great that there isn't even a need to bust out the toolbox. And on top of that the whole thing took about a half-hour. Can't complain about that.
Built like a champion
So obviously, this is a chair. You know what to do with a chair, and it involves sitting. But oh, does this specific chair provide that function with aplomb. In fact, the Champion Series might be the most comfy chair I've ever used in concert with my PC. But more on that in a minute, as we get into the actual functionality of this beast.
First and foremost, I feel like I have to talk about the build quality. Good Lord, the build quality. The base of the Champion Series chair is metal, and feels like it can take a beating and a half. The wheels are large, almost large enough to wheel across mid-pile carpet, and just like the base they have the feel of something that's going to last.
Actually, the entire rig follows those lines, with the exception of the controls, which are decidedly sans heft. The small control 'wand' that runs under the seat has a somewhat lightweight build. It's a little odd when you take into account the quality of the rest of the unit. Not that it matters too much, since the looks of the under-chair control suite isn't really what you'd buy one of these for. You don't even see it really.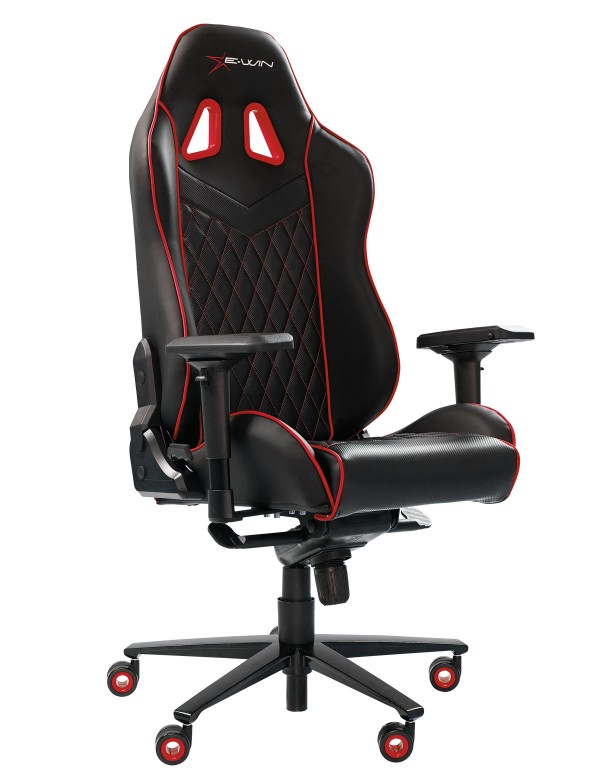 As for what those controls are for, the chair can do a number of things. You get some of the usual stuff, like the ability to lay back (pretty far too), but it also includes some nice unique features.
The arm rests can both raise and lower, to match your upper-arm length. Not only that, but they can pivot in or out. So if you find an inner or outer tilt to be more to your liking, you can set that with the Champion. I will add here that if you do tilt them in, you'll probably have to move them back to the neutral position before you get up.
On top of that, the Champion also comes complete with two pillows. Strapped onto the chair (and adjustable), is one small neck-rest and one lumbar pillow. These two little additions are actually major ones, since they lend themselves to making the chair as comfortable as it is.
Everything just works
All of the above, as great as it all looks written out on a screen, would mean little if all it didn't to the job it was supposed to. Fortunately, it absolutely does. Aside from the minor issues that I cited, the Champion is a wonder.
The ergonomics, the pillows, and the general design of the chair, all work together to create an experience that I didn't want to get out of. The Champion is so nice that I actually wheeled it out from my desk and over to the front of the TV to play console games. And just for reference, I usually throw myself onto the couch for that.
And though they might seem minor, I want to highlight just how terrific the pillows are. I've never tried out a chair that included something like this. Honestly, I always thought it was a gimmicky thing. But it definitely isn't, these combine to create a tremendous feature.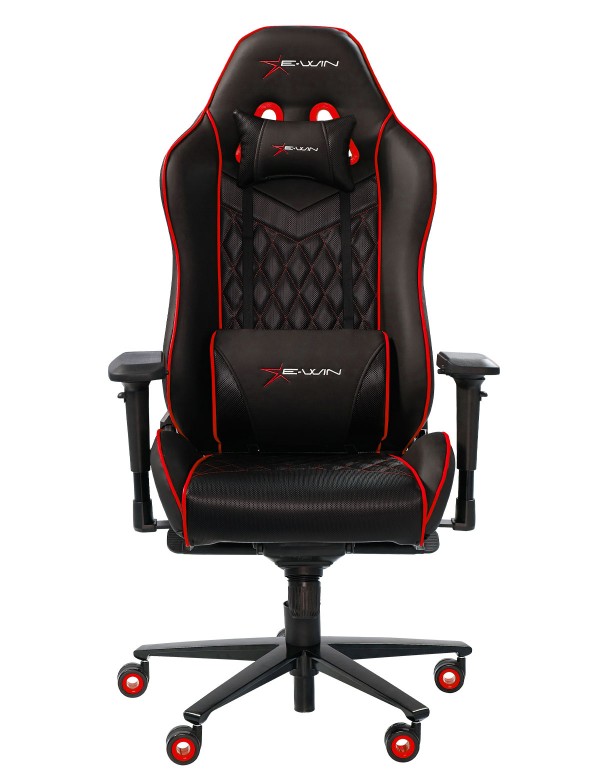 The cushions fill in the natural gaps of the human form. And with both the pillows and the body of the chair maintaining a great firmness throughout, the entirety works to support the user for lengthy gaming sessions.
Overall
If you're looking for something along these lines, a gaming chair to while away some PC-gaming hours in, then you want to take a look at the Champion Series from E-Win. It's a phenomenally made piece of furniture.
One caveat: it's a little on the big side. So if you're working with a cramped space, then this might not be the chair for you. Make sure you measure!
A sample unit was provided to BG by E-Win for this review
Champion Series gaming chair
Release date: Available now
Manufacturer: E-Win Racing
MSRP: $379.99 USD
Website: https://www.ewinracing.com/
If you are interested in purchasing one of these chairs, E-Win Racing has given BG readers an exclusive 30% off the ticked price. Just use code brutalgamer at checkout. Hit the link here to take advantage of that.
Game on
Ease of Setup - 93%
Build Quality - 95%
Proficiency - 95%
On the hunt for a gaming chair? How about just a really good, comfortable desk chair? Then you want to check out what E-Win Racing has to offer. With fantastic construction and a comfort level that's easily better than anything that I've personally used before, the Champion Series is a winner.