The Neo Geo Pocket's take on the meeting of 2 fighting-game giants gets released on the Switch. At this point, you should know what to expect.
Pocket war
For the uninitiated, SNK vs Capcom (and the reverse-titled) was a kinda-sorta-semi-series that came out of both named-houses. How it came about and the history of it is a little complicated honestly. I took a look at the wiki for it and it still seems bizarre to me.
Nevertheless, the set started with SNK vs Capcom: The Match of the Millennium, first released in 2000. Yes, you read that right. This very game, a Neo Geo Pocket title, was the initial release. Of course, neither company stopped with that.
Capcom vs SNK: Millennium Fight saw release in 2000, Capcom vs SNK 2 debuted in 2001, and SNK vs Capcom: SVC Chaos launched 2 years later in 2003. All of those landed on various home consoles as well as the arcades. The 2003 date seems a little late to me for an arcade release, but it looks like it did happen.
Taken into consideration, all of that means that SNK vs Capcom: The Match of the Millennium was the sole handheld release. And being that it was released for the Neo Geo Pocket, it runs along the same design sensibilities as all of the other fighting games for the console.
So yeah, cute little characters. But also as with all of the other fighters for the Pocket, it hides a much more rough and tumble style of gameplay than its looks denote.
Titans clash
You probably have a good handle on the premise for SNK vs Capcom from the above. So if you're thinking the game is just about a meeting of SNK and Capcom's biggest fighting stars, you are correct.
It's actually a pretty robust selection too. The 26 person character-list includes combatants from the likes of Street Fighter, King of Fighters, Darkstalkers, and more. So if you're a fan of one of the major fighting games from either company, chances are you'll find it represented.
To go along with the sheer amount of fighters in the game, SNK vs Capcom offers single, tag, and team modes of play. And of course it also has a narrative to its arcade mode, as simple as it might be. SNK heavy Geese Howard has teamed with the evil Shadaloo warlord from the Street Fighter series, M. Bison.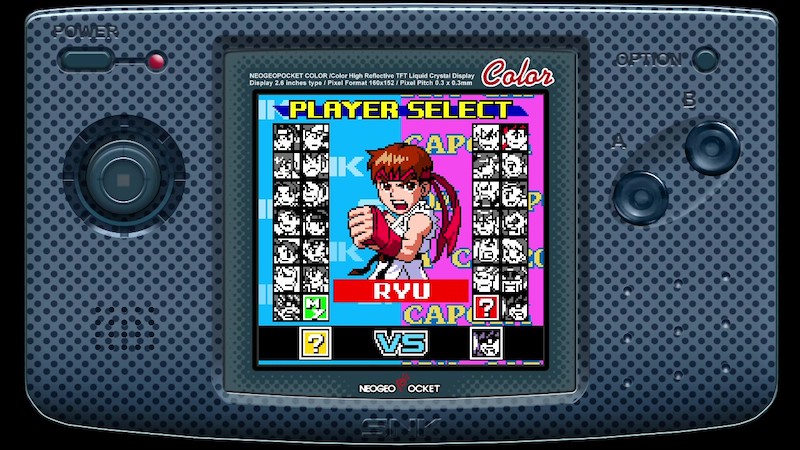 Of course, the bulk of the game involves your chosen fighter taking down a tournament full of foes to get to the final fight. Once there, you'll face off against a series of stiff battles that includes the above team, a set of clones, and a big boss.
There's nothing groundbreaking about SNK vs Capcom's story mode, though I will say that it varies things pretty nicely. You'll get some mild cinematics here and there, as well as a few different match types.
And since this is a direct port of the original title, all of the extras are in there as well. So you can expect to play some mini-games too. These Pocket-to-Switch ports tend to be the complete experiences, which is great since the Neo Geo Pocket and games for it aren't exactly easy to come by.
Fighting it out
The gameplay in SNK vs Capcom feels great. Though play is crafted to fit the limited button availability of the Pocket, SNK vs Capcom still manages to feel like a grown-up fighting game.
The special moves that you likely know by heart are almost all included, and can be pulled off fairly easily… depending. I say "depending" because I played a decent amount of the game in handheld mode.
I can't stand playing fighting games with the analogue stick, and the pad on the Switch gave me some serious challenges with this game specifically. I've played other fighters on the console in handheld, and can't say I had much of a problem with it, so I'm not sure what the deal is with this game specifically.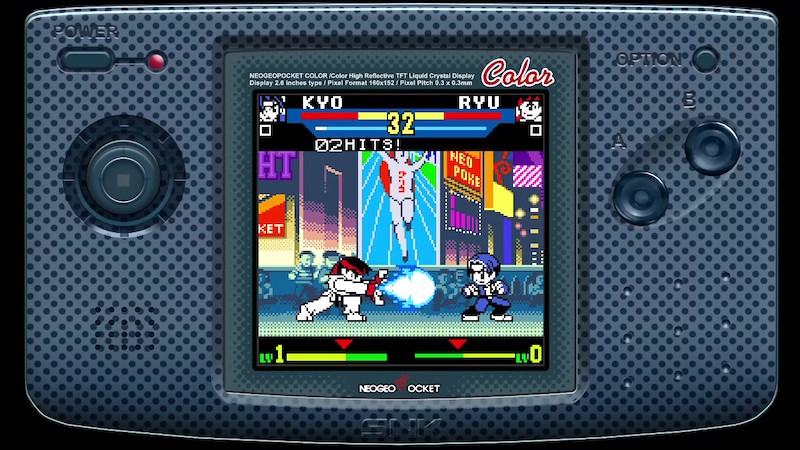 Once I switched to the Pro Controller, things changed. Oddly though, not completely. Again, I'm not sure if this was just me not getting the timing right with SNK vs Capcom for some reason, or an actual input issue. I'll go with it being me, but it's something to keep an eye on.
And aside from that, I found the game to play well. It runs fantastically on the Switch, as have all of the Pocket ports. Standard moves, jumping, and even super combos all included in that. Yeah, I had no problem pulling off Ryu's Shinku Hadoken, and yet could barely do the standard one. Go figure.
Clean and simple looks
Okay so, and again this is with all the Neo Geo Pocket games, the looks might be something of an acquired taste. Though you're looking at the fighters you know, they don't look exactly like them. Well, they don't look like adult versions of them anyway.
SNK fighters on the Neo Geo Pocket all took to a super-deformed, kid-like take when it came to the genre. Why? I don't know. It would seemingly have been just as easy to adapt a more traditional look. I always thought the SD style was because of the limitations of the console. In other words, SNK wanted a radically atypical look to 'disguise' the fact that the games couldn't be as detailed as something on another console. Who knows though.
Either way, the different visual style is actually kind of charming in its own way. And although the fighters are most definitely sporting an un-detailed and 8bit-like appearance, they're instantly recognizable as who they're supposed to be.
I will say though, that the special effects on stuff like super attacks are really nice and colorful, and the stages look great. Oh, and I have to point out that, once again, there are a number of viewing options.
Players can simulate playing on an actual NGP with screen overlays. And these are available in different colors. So if you had one of the little consoles, you just might find yours represented. Of course, you can also get rid of the overlay completely, and blow-up the image so it's nice and large. Up to you.
Overall
Again, and I feel like I have to keep saying this, the visual style of SNK vs Capcom: The Match of the Millennium might not be for everyone. If it's not a turn-off for you though, you'll find that this little portable brawler is an extremely competent (not to mention fun) one.
SNK vs Capcom: The Match of the Millennium
Release date: February 17th
Platform: Switch
Publisher: SNK
Developer: SNK
MSRP: $7.99 USD
Beat 'em up
Premise - 80%
Gameplay - 73%
Presentation - 75%
If you can get past the visuals, SNK vs Capcom is a darn good little fighting game. Though I had some issues with the controls, especially with the joy-cons, the game is a fun time that should please those who remember the versus-series fondly. And if you had a Neo Geo Pocket, it's an even better, not to mention nostalgic, trip.