Some very cool stuff was shown off last week by Diamond Select Toys, including classic properties that are brand new for the company.
Selecting a line
Never failing to surprise is Diamond Select Toys, who've got another great looking series of announcements, this time for fall 2021. Yeah, there might not be a Toy Fair this year, but that doesn't mean that the company doesn't have some cool stuff to talk about.
For now, and I'm sure there's a lot more to come, DST is talking up its line of statues and dioramas. Mostly. There's also a pretty bug announcement in the form of Transformers Minimates.
This marks the first time that the legendary Cybertronian IP has made its way to the mini-figure form-factor, and the first offering is looking great. Expect the initial wave to consist of one box set, stocked with the likes of Optimus Prime, Bumblebee, Starscream, and Shockwave. No, there's no Megatron. That's what a second set (not yet announced) would be for.
Heres's the full listing of what's on the way:
Bruce Lee Gallery Earth PVC Diorama
A Diamond Select Toys release! The master has landed! The latest entry in the Bruce Lee Gallery Diorama series captures the superstar in action, wearing a blue coat and pants and shattering a stone tablet with one stomp of his feet. Made of high-quality PVC, this approximately 9-inch sculpture features detailed sculpting and paint applications and comes packaged in a full-color window box. Designed by Nelson X. Asencio, sculpted by Rocco Tartamella! (Item # MAR212004, SRP: $49.99)
G.I. Joe ARAH Gallery Destro PVC Diorama            
A Diamond Select Toys release! Cobraaaaaa! The forces of good take on the forces of evil in the new Gallery Diorama line based on G.I. Joe: A Real American Hero! Arms dealer Destro kicks off the line in style, firing a wrist missile as he makes his getaway in an underground river. Measuring approximately 10 inches tall, this sculpture is made of high-quality PVC and features detailed sculpting and paint applications. It comes packaged in a full-color window box. Designed by Mark Wong and Tony Simione, and sculpted by Jorge Santos Souza! (Item # MAR212003, SRP: $49.99)
Legends in 3D Movie The Crow Eric Draven ½ Scale Bust
A Diamond Select Toys release! Legends never die! The legendary star of the legendary film is now the newest Legend in 3D – it's Eric Draven from The Crow! Measuring approximately 10 inches tall atop a rooftop-styled pedestal, this ½ scale bust of Eric features the likeness of actor Brandon Lee, and features detailed sculpting and paint applications. Limited to only 1,000 pieces, it comes packaged in a full-color box with a numbered certificate of authenticity. Designed by Joe Allard, sculpted by Rocco Tartamella! (Item # MAR212005, SRP: $175.00
Marvel Animated X-Men Sabretooth 1/7 Scale Mini-Bust
A Diamond Select Toys release! Bring on the bad guys! Sabretooth joins the Brotherhood of Evil Mutants in the latest release in the X-Men Animated bust line! Wearing his classic 1990s costume, with his claws ready to tear into Wolverine, Victor Creed stands approximately 6 inches tall atop a pedestal base. Featuring cartoon-accurate paint and sculpting, he is limited to only 3,000 pieces and comes packaged with a numbered certificate of authenticity in a full-color box. Designed by Barry Bradfield and sculpted by Paul Harding! (Item # MAR212007, SRP: $89.99)
Marvel Comic Gallery VS Dark Phoenix PVC Diorama
A Diamond Select Toys release! The VS series of Marvel Gallery Dioramas continues with one of the most powerful villains of all! Dark Phoenix emerges from a flaming phoenix symbol in her classic red costume, ready to take on any and all comers. This approximately 10-inch sculpture is made of high-quality PVC and features detailed sculpting and paint applications. It comes packaged in a full-color window box. Designed by Uriel Caton and sculpted by Victor Hugo Sousa! (Item # MAR212008, SRP: $49.99)
Marvel Comic Premier Collection Black Widow Resin Statue
A Diamond Select Toys release! Gun at the ready and Widow gauntlet raised, Natasha Romanoff charges into battle in the newest entry in the Marvel Premier Collection! Measuring approximately 11 inches tall, this dynamic resin statue features detailed sculpting and paint applications. It is limited to only 3,000 pieces and comes packaged with a certificate of authenticity in a full-color box. (Item # MAR212009, SRP: $175.00)
A Gentle Giant Ltd. release! For the glory of Mandalore! Mandalorian freedom fighter Bo Katan blasts her way into the Premier Collection with this dynamic, customizable statue! Featuring interchangeable helmeted and unhelmeted heads, and alternate helmet-holding and gun-holding arms, Bo Katan engages her jetpack in this 1/7 scale, approximately 11-inch statue. Limited to only 3,000 pieces, it comes packaged with a numbered certificate of authenticity in a full-color box. Designed by Barry Bradfield and sculpted by Alejandro Pereira! (Item # MAR212001, SRP: $175.00)
Star Wars: A New Hope Darth Vader 1/6 Scale Mini-Bust
A Gentle Giant Ltd. release! The Dark Lord of the Sith ignites his crimson lightsaber blade in this all-new 1/6 scale mini-bust! Depicting Darth Vader with his cape in one hand and lightsaber in the other, this approximately 8-inch bust features detailed sculpting and paint applications. Limited to only 2500 pieces, it comes packaged with a numbered certificate of authenticity in a full-color box. Designed by the Silva Bros., sculpted by Anissa Tchoub. (Item #MAR212000, SRP: $120.00)
Star Wars Legends in 3D TIE Pilot 1/2 Scale Bust
A Gentle Giant Ltd. release! Watch out, Red Leader! This menacing TIE Fighter pilot is coming up on your six o'clock, and the newest Legend in 3D! Standing approximately 10 inches tall atop a mechanical-looking pedestal, this half-scale bust captures the iconic helmet design with detailed sculpting and paint applications. Limited to only 1,000 pieces, it comes packaged in a full-color box with a numbered certificate of authenticity. Designed by Joe Allard, sculpted by Oluf Hartvigsen. (Item # MAR212002, SRP: $175.00)
Transformers G1 Minimates Series 1 Box Set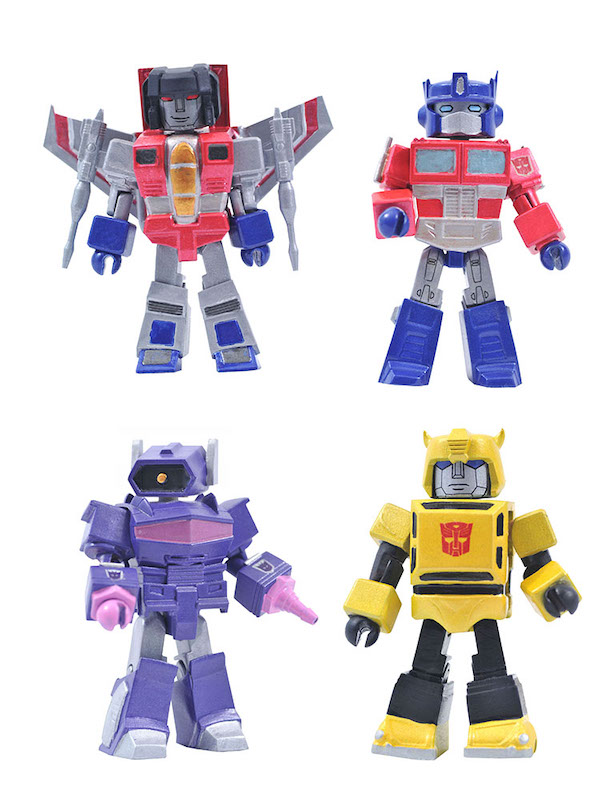 A Diamond Select Toys release! The greatest generation of Transformers is now the next generation of Minimates! Capturing the armor details of four classic characters – Optimus Prime, Bumblebee Starscream and Shockwave – each 2-inch mini-figure features multiple points of articulation and is fully poseable. Painted in a metallic color scheme to mimic the original 1980s toy releases, this set of four comes packaged with weapons on a blister card. Designed by Barry Bradfield! (Item # MAR212006, SRP: $29.99)