The best bounty hunter in the galaxy is back in Disney's The Mandalorian, and is soon to branch out to both his own show and Hot Toys collector figure.
He's back
Boba Fett. The name is legend when it comes to the Star Wars universe. And thanks to The Mandalorian season 2, we now know that the clone warrior did not in fact meet his fate in Return of the Jedi.
Fett played a huge part in the second season of the hit show, and is now set to feature in his own spinoff. The Book of Boba Fett, starring actor Temura Morrison as the title character, will be hitting Disney+ some time at the end of this year.
But before we get there, you might want to have a look at what Hot Toys is preparing to unleash. The high-end toy maker has what looks to be a The Mandalorian-inspired Fett on the way. Though, that and the single image you see here is all we have to go off of so far.
Nevertheless, it's pretty easy to tell this is going to be a terrific take on the aged Fett. Not that you really even needed the pic to tell that, since Hot Toys has something of a great reputation going for it.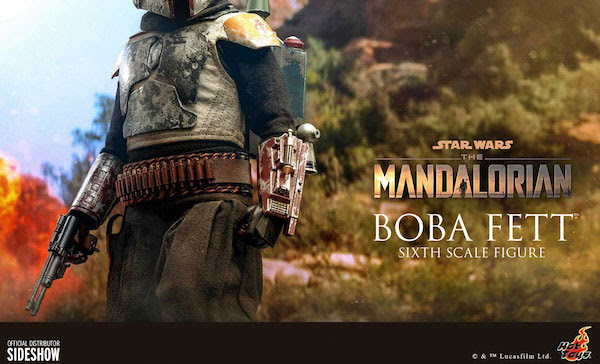 Inspired by his appearance in the hit Star Wars™ series, The Mandalorian, streaming on Disney+ this new 1/6 scale figure features his iconic worn and battle-damaged armor, and, what else?  Well….we'll just have to wait and see!

Sideshow Toys
As of right now, there's no release date for this bad boy, though if you're keen you can add your name to the RSVP list. That'll get you a quick notice of availability from Sideshow Toys, Hot Toys' retail partner. Click here to check it out.