The iconic origins of some of comics' greatest and best-known heroes (and villains) are getting a Mighty new graphic novel series from Marvel.
Mighty
The origins and earliest tales of the likes of Spider-Man and the Fantastic Four are modern myth. Though from another time, the base stories never really lose their magic. Not that they should, since they're from some of the greatest minds in comic book history.
If that statement rings true for you, then you're going to love what Marvel Comics has on tap. All of the above is coming to a new graphic novel series from the publisher, dubbed Mighty Marvel Masterworks.
Yes, the line plays off of the name of the already legendary Marvel Masterworks book series, and there's a reason. The new set of books will be loaded up with the very beginnings of the characters you know and love. That probably sounds familiar, since the line seems very similar to the original Masterworks series. The difference being that a whole new generation can get started right at the beginning.
Kicking things off, with all new cover art, will be:
The Amazing Spider-Man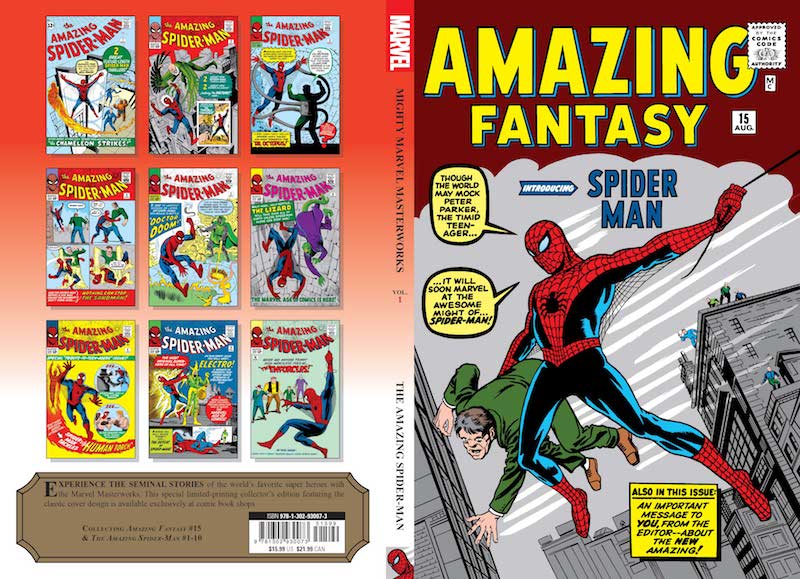 Collecting AMAZING SPIDER-MAN (1963) #1-10 and material from AMAZING FANTASY (1962) #15, MIGHTY MARVEL MASTERWORKS: THE AMAZING SPIDER-MAN – WITH GREAT POWER will feature Peter Parker's web-slinging adventures from the very beginning — including the tragic origin that started it all; the first appearances of the Daily Bugle, J. Jonah Jameson, Doctor Octopus, the Sandman, the Vulture and Electro; and guest-star nods from the Fantastic Four and Human Torch!
The Fantastic Four
Collecting FANTASTIC FOUR (1951) #1-10, MIGHTY MARVEL MASTERWORKS: THE FANTASTIC FOUR VOL. 1 will feature the fateful cosmic voyage of scientist Reed Richards, pilot Ben Grimm and siblings Sue and Johnny Storm, who became known to the world as Mr. Fantastic, the Thing, the Invisible Girl and the Human Torch —the Fantastic Four. See the first of their many extraordinary adventures including their first battles with legendary villains such as the Mole Man, the Skrulls, the Puppet Master, the Sub-Mariner, and the diabolical Doctor Doom.
The X-Men
Collecting UNCANNY X-MEN (1963) #1-10, MIGHTY MARVEL MASTERWORKS: THE X-MEN – THE STRANGEST SUPER HEROES OF ALL will feature Professor X's original teen team as they set off on a mission to forge peace between man and mutantkind. Meet Cyclops, Angel, Beast, Iceman and Marvel Girl and thrill to their first encounter with the Master of Magnetism, Magneto, and his Brotherhood of Evil Mutants.
Presented in 6×9 format, you can expect to see all of the above in stores this June. Stay tuned for more on any additional titles that the company might be prepping. And if these are a success, I'd bet on seeing just that sooner than later.