Take control of a big-wheeled, rocking, rolling, and rumbling monster truck in Nacon and developer Tayon's Monster Truck Championship.
Sunday, Sunday, Sunday
I have to admit two things right at the top of this review. For one thing, I love off-road style racing games. Second? I have little to no concept of monster truck… anything.
Yes, I remember the TV commercials of my youth, advertising monster truck 'events', but as to what those events consisted of… yeah I had no idea. That is to say, till I got to review Monster Truck Championship.
Published by Nacon and from developer Tayon, Monster Truck Championship is billed as a "sim". And if it is, then events like the ones that I mentioned were probably a pretty good time.
And as you'll see, so's this game. Though it's not without its problems.
Premise
Don your helmet, strap yourself in, and get ready to rampage your way though the monster truck championships. Yes, the aptly-named Monster Truck Championship is sort of a racing game, but only to a degree, as there are other types of events included.
You will engage in rally races against multiple opponents in the game's career mode, and also in short, one-on-one drag races. Both are very different than one another in makeup and play.
But on top of those, the game is also loaded with stunt events. I had zero concept of those beforehand, and I'm happy to have learned. That's because apparently they're like skateboarding with a truck.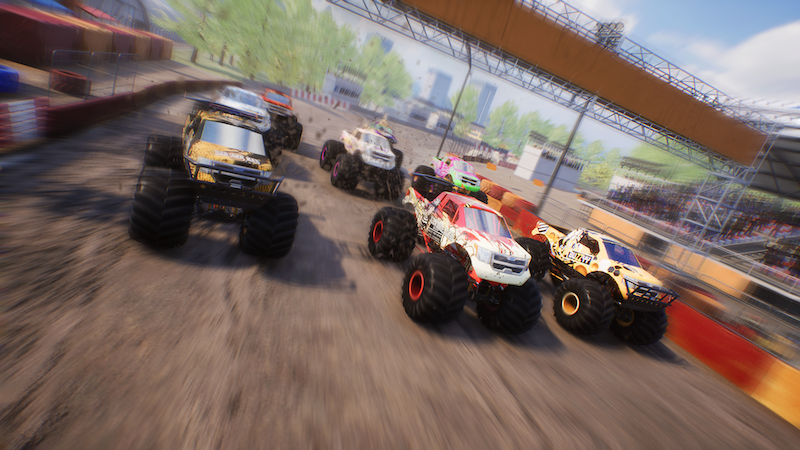 One of the main reasons to play the tutorial (which is not terribly descriptive) is to learn just what your truck can do. We'll talk more about that in the gameplay section of this article, but your truck (or whatever) is capable of performing flips, tumbles, and even wheelies. And some of the most fun parts of the game's campaign is built around those events.
As for that, the campaign is broken up into different events, all of which you can buy into as you play. There's also customization elements, and even team-management. That last part is where you'll hire a manager (to get you higher payouts) and crews to work on your rig. It's fun stuff that can actually get pretty engrossing.
That said though, your enjoyment might be limited to just how much you can get the hang of those controls.
Gameplay
As I mentioned, the control here isn't stop-on-a-dime. I assume that's pretty authentic to the actual experience of monster truck racing, since it certainly seems like it would be. But bottom line, if you're expecting typical race controls, think again.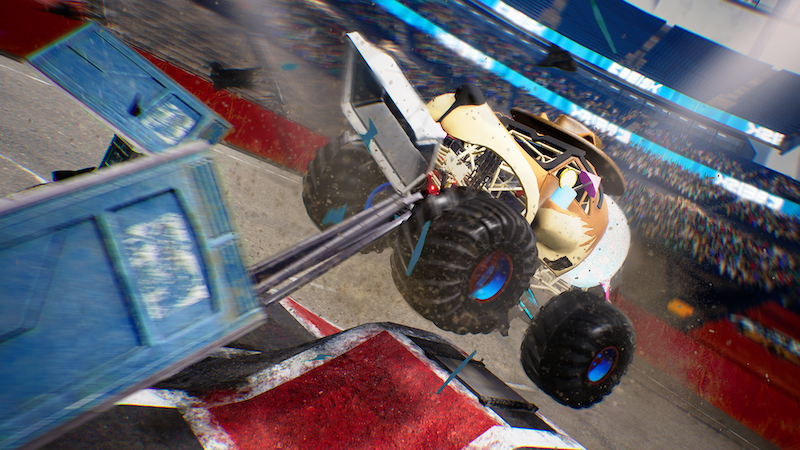 Races are just as much fighting against your truck's tendencies to fishtail as they are against opponents. Again though, that's a part of it as far as I understand. It's challenging, but it's honestly not un-fun. Now the drag races, that's another story.
Something I still haven't gotten used to, the drag races are tough. You don't have to place first in every even to move forward, and that's a good thing since I'd have failed miserably if I had to win all the drags. Busting out of the gate is even a challenge, and not because it's meant to be one.
The game requires you to hold the brake, and then release only when given the green light. But if you want to get a good start, you have to also rev the engine. That's supposed to be doable, but it only works part of the time. The other part, your truck will ignore that you have the break pressed and send you to a false start. Do two of those and you'll have to restart the event. Yeah.
While that's frustrating (and tough), the stunt events are the exact opposite. They're the highlight of this game, and a ton of fun. In them, you'll relive the majesty of a truck with giant wheels crushing piles of cars… and motor homes… and porta-potties… and anything else really.
The more you wreck, the higher your score. Likewise, the more tricks you pull off, the better you'll do. Those include bicycling (which is getting your truck on two side-wheels), summersaults, backflips, and more. It really does feel like skateboarding with a truck, and it's a really good time all around. Plus if you do well enough, you can place lower in the other events in the series, which for me was a good (very good) thing.
Presentation
The graphics and sound package for Monster Truck Championship is truly a mixed bag.
The looks of the cars and the arenas is actually pretty good, though they're certainly not going to knock your socks off. Still, everything looks good enough. There are muddy tracks to careen through, brightly colored pylons to avoid, and stands full of fans cheering you on.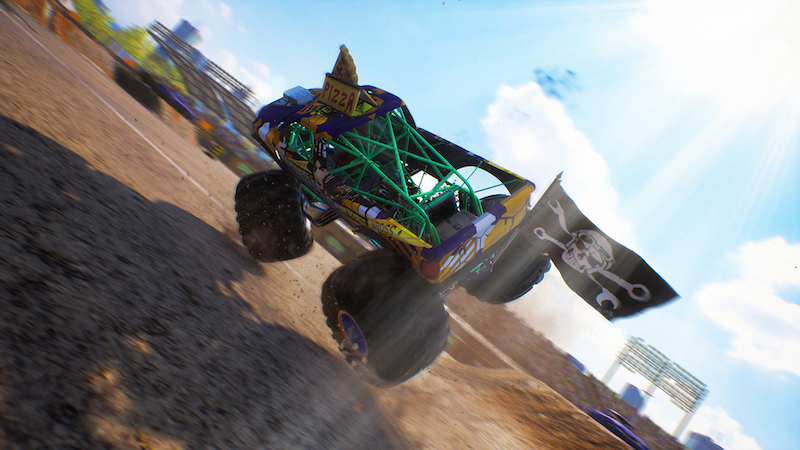 Your truck can also sustain damage. You can actually select whether or not this affects handling, which is pretty cool, and pieces will fly off your rig if you trade paint with opponents. That all looks good enough.
But, that said, there's a lot of pop-in as well, which was really disappointing. And there are also some odd visual… errors. Your truck's tracks for instance, will be carved into the mud behind you. You'd expect that. Only they look like visual artifacts instead of what they're supposed to be. In other words, they look like something that shouldn't be there.
In terms of the audio, Monster Truck Championship is fine. It's not going to bowl you over with it's melodious tunes, but then you wouldn't expect it to. And the announcer is alright too, though a little grating at times.
Overall
I have to imagine that there isn't a huge market for monster truck games. But I feel like Monster Truck Championship could scratch that itch for you if you are looking for one.
It's not perfect by any means, but the game's pretty dang fun. And though it can be frustrating at times, the good tends to outweigh the bad.
Monster Truck Championship
Release date: October 15th, 2020
Platform(s): Xbox One (reviewed), PS4, PC | Switch version coming on November 19th
Publisher: Nacon
Developer: Tayon
MSRP: $39.99 USD
Crush 'em
Premise - 80%
Gameplay - 73%
Presentation - 70%
Monster Truck Championship is probably an acquired taste, but it does fit the bill if you're looking for something that can get you behind the wheel of a big-wheeled rig. Before you dive in though, keep in mind that the game does have some issues, including some graphical bugs and control issues.