A surprise assortment of new Marvel Legends figures was announced today by Hasbro, this one featuring movie Venom, Midnight Sons Morbius, and more.
Bring home all the action
Silver screens might be silent right now, but Hasbro is mining the Marvel movie catalog aplenty. That includes the X-Men figures that are coming, all of which play off of the 20th Century Fox films, and a new Venom figure that's just been announced.
The figure is unmistakably actor Tom Hardy's version of the famous Spider-Man villain/ally. There's no 'white spider' logo, and he's covered with white veins. The figure also sports two head sculpts, with a tongue extended version and one that looks more like his first appearance in the comics.
That is the only figure though, that plays off the film, as the rest are all comics-inspired. And that includes an awesome new Carnage that spans the Marvel-U eras, a symbiote villain from Venom's Lethal Protector run, and a Morbius figure that casts shades of Midnight Sons.
The wave includes: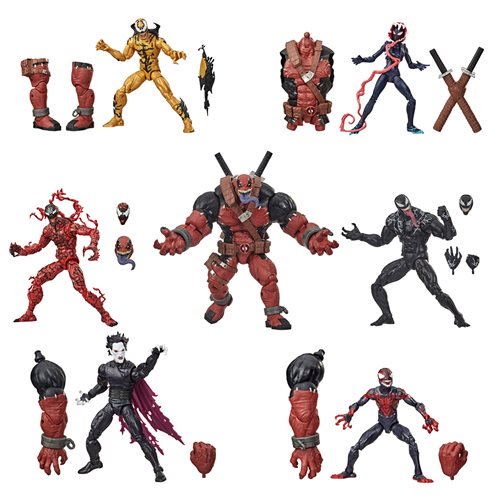 As you can see form the image, even thought Ghost Spider and Miles Morales are included, they're both symbiote versions of those heroes. The only figure in the wave who isn't 'joined' is Michael Morbius. And yes, that includes the Build-a-Figure, the monstrous Venompool.
The wave is set to ship out this November, and it can be ordered via online retailers right now. That includes Entertainment Earth, which the links above lead to.
If you order through them, BG will gain a small commission from your purchase.