This fall, PS2-era FPS XIII makes its triumphant return. The game is looking great in its modern incarnation… and yes, it's still got David Duchovny.
The action is out there
If you've ever played XIII from its original release, then you know that it was a pretty solid shooter. Released on the PS2, Xbox, GameCube, and PC back in 2003, the FPS sported a unique look, and some triple-A voice talent.
XIII was based on a French comic book that didn't really have an audience in the rest of the world, and developer Ubisoft sought to keep the aesthetic with a cel-shaded look. So the game actually looked like a comic book come to life. They also signed a big name actor to provide the vocals for the hero XIII, with X-Files' David Duchovny.
Now Microids and PlayMagic have picked the title up, modernized it with some remastered graphics, and are set to relaunch it on current consoles and the PC this November. And honestly, it's looking pretty great.
In the first trailer (below), you'll get to see the Brighton beach or the FBI headquarters locations. Of course, hardware aplenty is in play too, so you'll get to see a bunch of the weaponry that you'll be brandishing in the finished game.
Also worth a note, is that Microids mentions that there are several ways to play this one. You'll see some of those options in the trailer as well.
XIII hits the PS4, Xbox One, Switch, and PC this November the 10th. You can expect to see it in both standard and Limited Editions. The latter will come complete with:
The copy of the game
A two-sided metal case
3 art cards
13 in-game weapon skins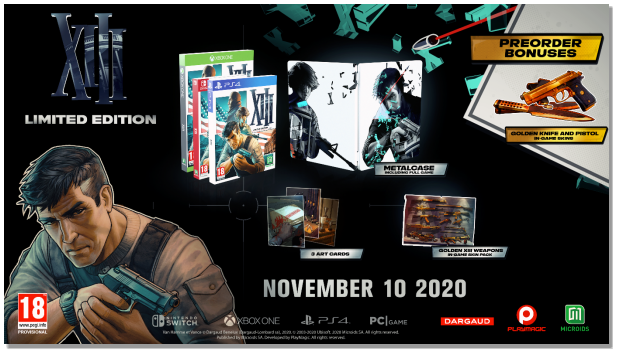 Thinking about pre-ordering? Then you'll also get the Golden Classic Weapon Skins Pack (Pistol + Golden Knife) for your trouble from "most retailers".