Street Fighter fans who main Cammy should be happy with what Pop Culture Shock has cooked up. It's newest line focuses on the former Doll.
Trilogy
PCS, if you're unaware, makes some great looking statues. They've been at it for a while, even when it comes to Capcom's Street Fighter license. It wasn't too long ago that we posted about their Chun-Li statues, and now they're back with a line of Cammy's. Officially dubbed "Cammy: Evolution", the line is set to include a total of three pieces with a trilogy collection as well.
There'll be a green-suited Super Street Fighter II version, a blue Street Fighter Alpha edition, and one featuring Decapre. If you don't know that name, you're forgiven since it's pretty easily the least famous of the picks here. Decapre though, is a Shadaloo clone of Cammy.
She's the most different of this group, with an all-black outfit and twin included portraits. The piece will come with an unmasked burned-face, as well as a red-eyed, masked version. As a cool little bonus, the eyes on the masked version will light up if you buy the Cammy: Evolution set. That is though, by far the most expensive option. The set gets you all three pieces, and will run a monster $2700 USD. Not that these are cheap if bought separately.
The pricy assassin
Posed on a base that's designed to look like her stage from Super Street Fighter II and with a mixed-media design, the basic version of Cammy stands in at a huge 28″ tall and will run you $950 USD. Cammy as Killer Bee and Decapre both feature the same make-ups, and clock in at $925 USD each. So if you did want all three, the set is actually the best option.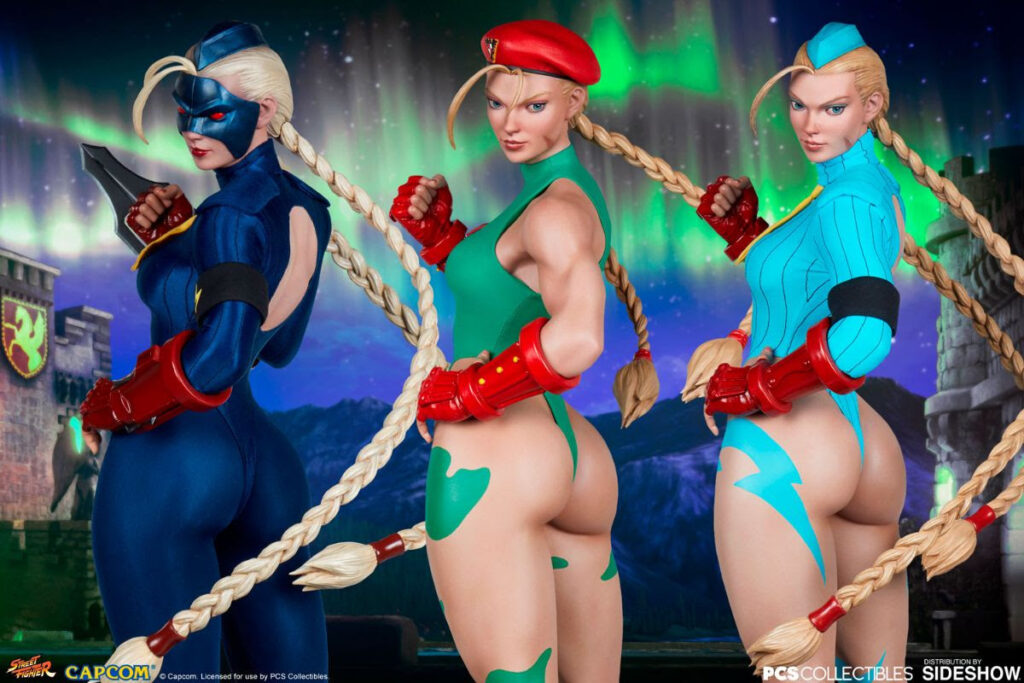 The Cammy collection is set to arrive starting this November with the Killer Bee version, and running through May of 2021. Carried by Sideshow Toys, you can get more info or pre-order via the links below.