The iconic Rubik's cube is reborn as Rubik's Revolution. This time, the classic cube works in lights, sounds, and even multiplayer gaming.
It's a Revolution
I'm going to go out on a limb and say that pretty much everyone knows what a Rubik's cube is. Especially if you were a kid in the 80s or even the early 90s, Rubik's was as household of a name as any other when it came to puzzles, games, and even cartoons.
A relatively simple puzzle-game, Rubik's cube was as tough to solve as you wanted it to be. Fresh from the box all 6 sides would be one solid color, with each of those then being broken down into 9 cubes a piece. The job then would be to mix all of those mini-cubes up by twisting them around the main body of the cube till they were all mixed up.
Then you had to put them back, so it was essentially a puzzle. Some people found this task a little easier than others. I was not one of those people. I had a few cubes when I was a kid, and I can't say I ever solved one of them once they were mixed up.
Rubik's Revolution on the other hand, updates the classic with a series of actual games. It's fun, sometimes frantic, and all together a good time. Did I have more fun with the Revolution than I ever did with the cube? You better believe I did.
Premise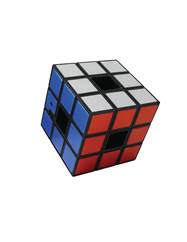 Okay, so we have to get it out of the way immediately that Revolution is not Rubik's cube. It is officially licensed and it might look the same in some promo pics, but the two 'games' are as different as night and day.
Rubik's Revolution comes complete with 6 included titles. These range pretty widely, and offer a nice selection of stuff to interact with. You won't find any twisting of tiles here though, as Revolution's games are completely electronic.
Those include two speed trials, a pattern matching experience, a game that tasks players with lighting up all four sides of the cube at once, and a multiplayer mode. That might be the most fun out of all of them, since you can get other players in on it.
Multiplayer Madness gives each player a limited time to find and deactivate one lighted side of the cube. Once you do that, you toss it to a pal. If you don't get it out of your hands before the timer goes off, you lose. It's essentially a game of hot potato.
As for the solo modes, I actually dug all of them.
Gameplay
We talked about the multiplayer already, so I won't get back into that, but really all of the solo modes are worth playing. They're all a good time, give or take a few frayed nerves.
Before we get too deep into the actual games though, you should understand how Revolution actually works. As I mentioned, unlike Rubik's cube back in the 80s, the Revolution doesn't rotate at all.
Instead, it sports a single recessed button in the center of all 6 of its sides. These buttons light up, corresponding with the color of the side its on. That hook factors into all of the games you can play. Sound plays a part too however, with the Revolution making various tones, melodies, and even some speech.
In addition to the multiplayer mentioned above, here's how the games break down:
Light Speed sends you around the Revolution, hunting for lights and pressing them faster and faster before those lights go out.
Light Speed Trainer is an earlier version of the above, and tends to be a little easier.
Pattern Panic is exactly what it sounds like, you have to remember patterns that the Revolution calls out, and input them. Much tougher than it sounds.
Sounds Out is more audio than visual, as the revolution played music at different levels. Your job is to press the button on the side that's playing the loudest after it stops.
Full Charge blinks all the lights on the cube, but at different times. You have to catch them, and light them up until you turn on all the sides and light up the entire Revolution.
As you can see, the little cube offers a good deal to do. Add in that multiplayer, and you have something that's a ton of fun.
One of the only things I don't like about it is that there's no way to change the sound volume. I'm not going to knock the Revolution for that though, since lowering the volume too much would leave some of the games unplayable. So as much as I'd have liked the option, it's understandable why it's not included.
Presentation
While the most important thing here is clearly the set of games, the Revolution itself has a cool retro look. The cube looks an awful lot like a Rubik's cube after all, which is neat enough, and so it looks pretty snazzy on the shelf.
Once activated though, it really does come alive with lights and sounds of the various games. Plus, when you turn the Revolution on, it cycles though all of the game titles. And once it finishes that demo, it activates all the lights at once.
This looks awesome, though it does turn off pretty fast to conserve the battery. I'd have liked to have seen an option there to leave the 6 lamps lit. Some might say that's kind of pointless, and it probably is, but it would have made for a nifty (albeit battery-killing) little alt-mode.
Overall
While I've always loved the look of the Rubik's cube, I actually enjoyed playing with the Rubik's Revolution. The cube looks cool, has some great lighting and sound effects, and most importantly stocks a great selection of games that are actually fun to play.
An improvement on the original? In every way but the nostalgia, I'd say yes.
A sample was provided to BG for this review.
Rubik's Revolution (2020)
Release date: Available this year
Manufacturer: Super Impulse
MSRP: $19.99 USD
Premise - 85%
Gameplay - 93%
Presentation - 80%
The Rubik's Revolution is loaded up with an excellent little set of games that'll keep you engaged and just a little bit on edge at times. Add to that the fun multiplayer mode, and the cool overall look, and you have winner.