If you missed out on two of the most impressive indie action games of recent years, you've got a chance to get both in the Valfaris/Slain pack.
Hack/slash/shoot
Indie publisher Big Sugar has a whole mess of action prepped for this special double pack of games. Exclusive to the Switch, the bundle includes both Valfaris and Slain: Back from Hell. If you're unfamiliar with either or both, then you might want to take a look.
From developer Steel Mantis (a two man team), both games are all-action, with Valfaris being of the shooter variety and Slain a hack and slash. They're also both coated in heavy metal, and play a lot like amped up versions of old school action titles from the the 16bit eras.
The set is available now for the Nintendo Switch (April 23rd in Europe) and Xbox One.
Valfaris
Valfaris: A 2D action-platformer forged from heavy metal. Wield an array of deadly weaponry as you venture into the mysterious fortress of Valfaris. Uncover the truth of its doomed fate and challenge the arcane evil at its very heart. Brutal combat. Deadly enemies. Amazing pixel art. Savage soundtrack. Get ready to rip the galaxy a new wormhole.
Savagely reduce foes to piles of gibs with an array of brutal weaponry
Explore a diverse range of tainted environments as you venture ever deeper into the dark world of Valfaris
Dominate ranks of deadly enemies and bosses, from the weird to the grotesque (and some that are just grotesquely weird)
Gorge your eyes on devastatingly awesome pixel art hand-crafted by Andrew Gilmour
Complete the game to unlock Full Metal Mode for an even deadlier challenge!
Slain: Back from Hell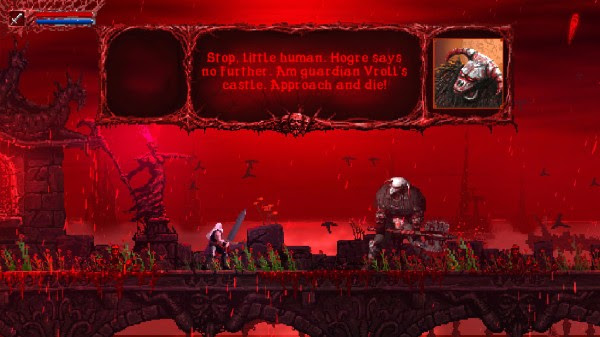 Slain: Back From Hell: A heavy metal inspired arcade combat game with stunning pixel art visuals, challenging old-school gameplay, and a brutal soundtrack. Fight through a Gothic world and face the deadly overlords that reign over each of its cursed realms. Defeat them to continue your quest, or fail and die gruesomely…
Challenging elemental-based melee and magical combat
6 hours of bone-crushing, metal-fuelled mayhem and grisly gore
Choose from 3 unique weapons in your fight against the demon hordes
Cunningly concealed secrets (shhh)
Boss fights, mini-boss fights, sub-mini- boss fights and macro-sub- mini-boss fights
No laborious leveling, no tedious grinding, no wimpy crafting!