Both of DC's FCBD 2020 offerings should be interesting, though one might have a heavy affect on the future of their universe, and The Flash.
Run
Flash's have always mucked around with the time stream, but never in as big of a way as in Flashpoint. That DC Comics event reset time in the DCU, altering more than a few of the biggest heroes.
Some of what the publisher tried with that event worked, and some didn't. Over the years since, several things saw rollbacks (like with Superman's newfound youth) and 'corrections'. Those usually came in the form of events themselves, like with the Rebirth era, and the most recent Doomsday Clock.
And it's that latest maxi-series, which saw the Watchmen universe officially come into contact with the DCU proper, that'll now play into the events in Gods Among Us.
No, that's not a reference to the video game series. It's instead a new event that serves as a followup to the Flash Forward book, and sees Wally West taking his place in the Mobius Chair… a Dr.Manhattan-powered Mobius Chair.
Generation Zero: Gods Among Us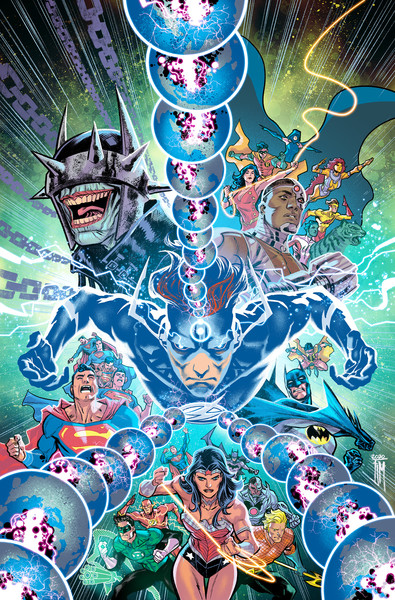 The march towards DC's future begins with Generation Zero: Gods Among Us! This 32-page issue features a stunning cover by Francis Manapul and features key stories involving Wally West, The Fastest Man Alive, and Wonder Woman, warrior princess from the island of Themyscira. New and longtime fans can't afford to miss Generation Zero: Gods Among Us; this book lays the foundation for even more seismic-level changes in the DC universe.


It all starts here, and everything counts.


"Flash Forward: Epilogue" is an extension of the unbelievable conclusion to the Flash Forward six-issue miniseries, with all-new content from the series team of writer Scott Lobdell and artist Brett Booth.
In order to save his children and the multiverse itself, Wally West makes the ultimate sacrifice, taking his place in the Moebius Chair.

Unbeknownst to him, the chair is packing a little extra power, having been imbued with the godlike powers of Dr. Manhattan! Now armed with infinite knowledge – and the powers of a god – Wally West can see the past, present and future of the DC Universe all at once.


…Including what needs to be changed.

DC Comics
Middle grade
While the above book is clearly the main event, DC will also have a second book out there for Free Comic Book Day. This one focuses on so-called "Middle Grade" graphic novels, aimed at younger readers.
The book will contain a selection of tales, including Batman: Overdrive, and Batman: Once Upon a Crime.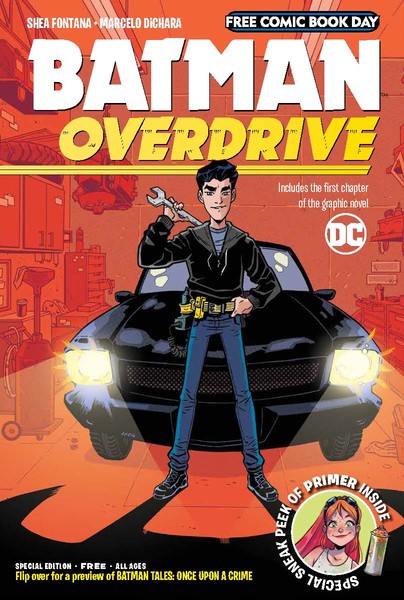 Written by Shea Fontana (DC Super Hero Girls) with art by Marcelo Di Chiara, Batman: Overdrive is a heartfelt story touching on the importance of friendship, trust, and forgiveness. Driven to solve the mystery of his parents' murders, teen loner Bruce Wayne sharpens his detective and fighting skills as he searches Gotham City for clues to the identity of those responsible. Bruce processes the pain and guilt of their deaths by rebuilding his dad's first car. As he finds parts to restore the car, Bruce is forced to open himself up to new challenges and friendships, finding out that what he really desires most isn't vengeance, but freedom.
Four stories featuring Damian Wayne, Alfred, Batman, and more are the center of Batman Tales: Once Upon A Crime. An anthology that combines characters from the DC Universe with classic fairytales, this book encourages middle-grade audiences to read on their own with short, hilarious stories that help foster a sense of reading accomplishment. The creative team of writer Derek Fridolfs and artist Dustin Nguyen (of Li'L Gotham fame) have returned to their Bat-roots to combine Bat-characters with fairytales such as Pinocchio, Alice in Wonderland, The Princess and the Pea, and The Snow Queen.
Both of the above titles will be out there for the taking on Free Comic Book Day 2020, May 2nd.