The king of Atlantis makes his way into Mezco Toys' One:12 Collective. And just like that, we're one hero away from a full Justice League.
Unite the Seven
Was I the only one that assumed that slogan was meant to infer the Justice League itself and not the 'seven seas'? Can't be.
But, even if I was, this action figure that we're looking at today isn't based on the DC movies. This one's 100% classic comics, complete with short cropped, blond hair and no beard. That's right, this here is the classic, iconic version of the king of Atlantis himself, Aquaman.
Build Quality
Aquaman sports the staple One:12 articulation, with a full range of motion. There are no hindrances to movement, and the included (optional) armor doesn't block much either. As you can see, with the included 'flight stand' it's possible to get him into some very cool swimming poses (which go perfectly with the alternate head sculpts).
As usual though, I probably wouldn't recommend this figure to anyone who's thinking of giving it to a child. While One:12 figures are fairly sturdy, they're also meant for collectors. I have to imagine regular play would cause some issues.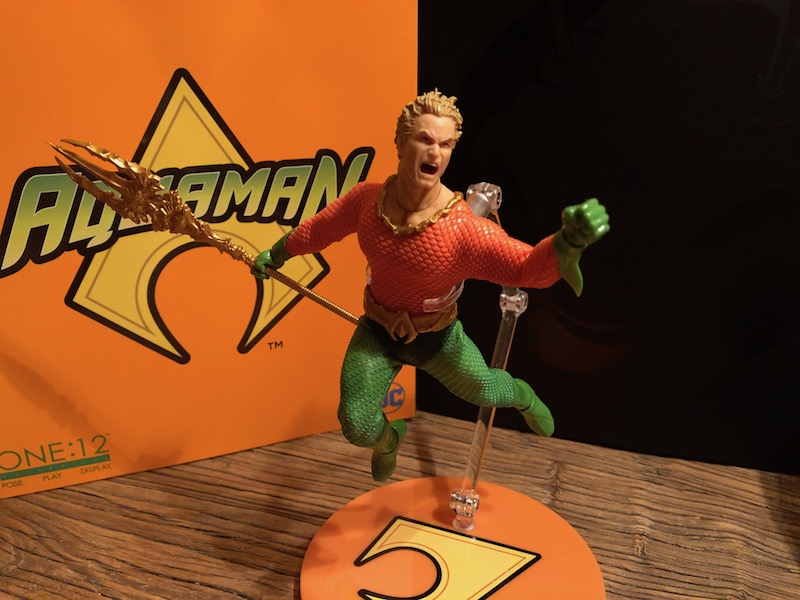 Aesthetic
I guess I should point out here that this is the classic version of Arthur Curry (Aquaman). You won't find any long hair, tattoos, a beard, or Jason Momoa likeness. Some artistic license aside, this figure is sculpted to look (mainly) like the character as he's appeared since he was created. Your mileage may vary on how much you dig that if you favor one alternate look or another. He has had a few over the decades after all.
Honestly, even if you're a fan of this particular look, you have to admit that his iconic suit is just a little bit dull. So in my estimation, it's a good thing that Mezco did some punching up, as they do tend to do to with figures in the One:12. Actually, I wish they'd have done more.
Aquaman's suit is well detailed, with a three dimensional, chainmail look built-into both the top and bottoms. That's pretty canonical, but it's more pronounced in the figure than it is on the printed page.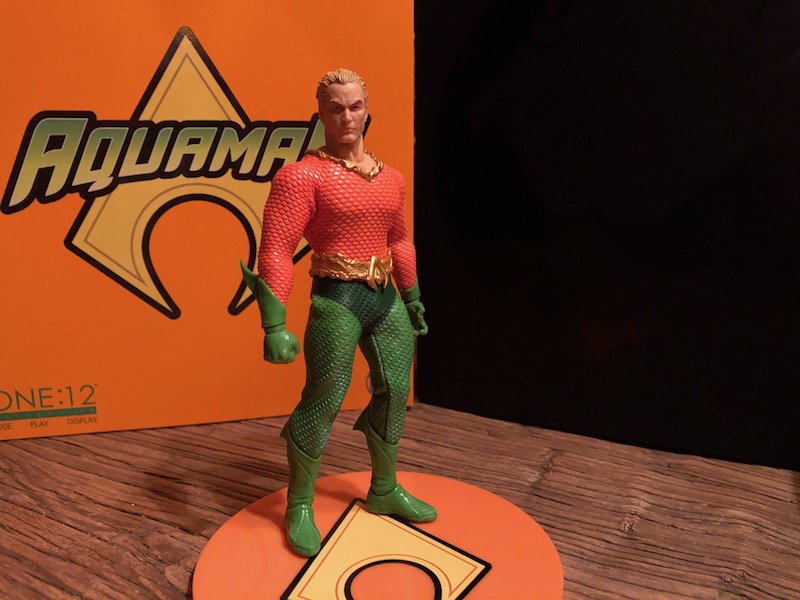 The costume is all one piece as well, which does result in an ever-so-slightly odd look. Then again, it'd have been pretty lousy if his shirt rode up in the back when you moved him. And thankfully, the suit is broken up well by the sculpted elements. So the one-piece, coverall style is not terribly noticeable.
Those sculpted elements, by the way, come in the form of a belt and some neckline detailing. I'd have loved to have seen these done to look a little more metallic, but they're cool nonetheless.
Extras
One:12'ers that come packed with a ton of accessories get extra points from me, and Aquaman does… okay in this regard.
Aside from the usual assortment of hands, he's got a trio of head sculpts.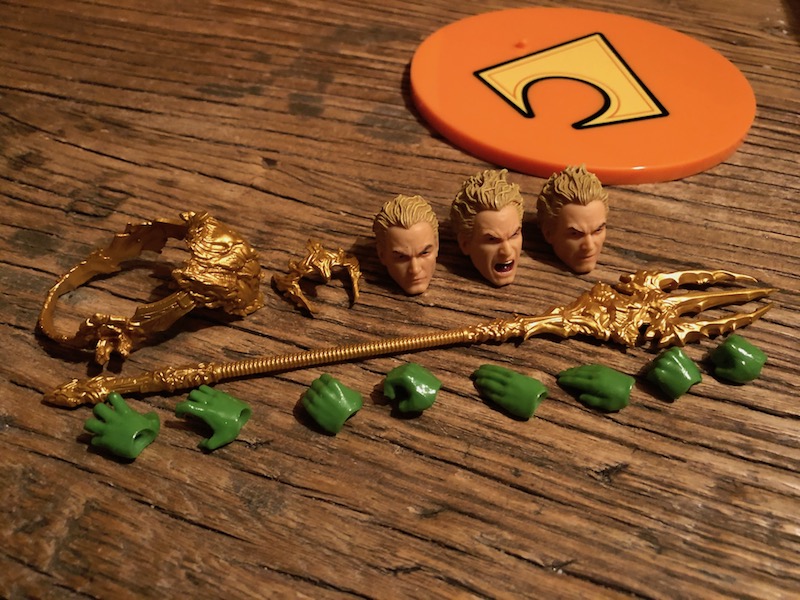 Only one of these is of him on dry land, while the other two simulate his hair moving around under the sea. That's cool I guess, though I imagine most collectors will want to have him posed with the rest of the League, which would mean they'd all be above the waves.
Other than that, he's got his traditional trident, which looks very nice indeed, and that Atlantean armor I mentioned earlier. That consists of an armored shoulder piece, which has a strap with a clip for the trident. Pretty slick.
The 'crown' is cool too, and not just for the more royal look it lends to the king. It's actually magnetic, and attaches just by placing it on his face, no need to carefully position it or anything. This also means that swimming poses are easier to pull off with it as well, thanks to it staying put.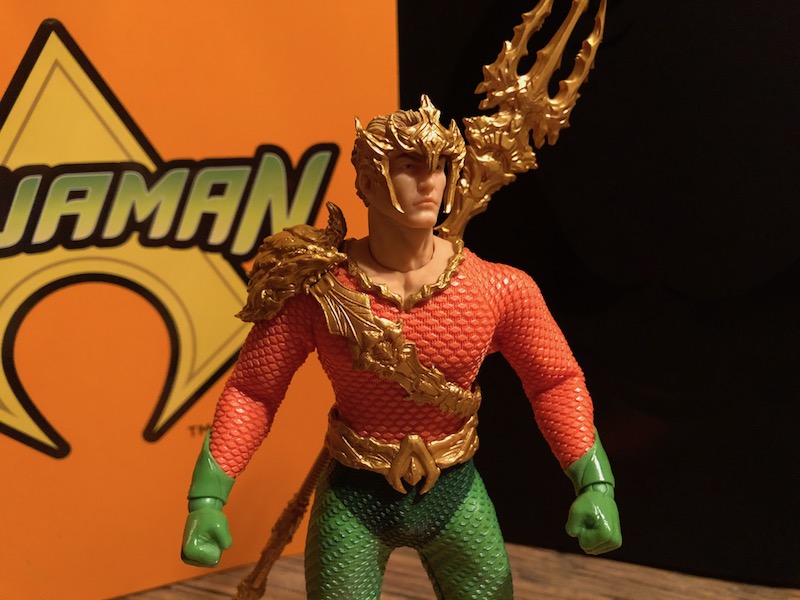 What you might have noticed there though, is that that's not a ton of stuff. Off the top of my head, I'd have liked to have seen some kind of effects piece mimicking his telepathy, and it would have been awesome to get the giant seahorse he's been known to ride. Admittedly though, that last part would have driven up the cost, so maybe it's for the best.
Overall
So how's Aquaman come off overall? Pretty well. As you might have gathered though, he's not the greatest figure in the line, and does have some negative points.
He's still cool looking, don't get me wrong, and I'm not upset that I picked him up, but he doesn't have the same punch that I'm used to with One:12 Collective figures.
If you're a big fan, then that probably won't matter, and you'll just plain want one for your One:12 shelf. If not, well you might want to take a closer look at this one before you buy.
Aquaman
Release date: December 2019
Manufacturer: Mezco Toys
Line: One:12 Collective
MSRP: $80 USD
Build Quality - 92%
Aesthetic - 80%
Extras - 75%
The One:12 Collective version of Aquaman is a solid, if somewhat unspectacular figure. He looks cool enough, but comes up short with an odd looking suit, and not all that many accessories.