Guts' Dragon Slayer is set to be offered by Dark Horse, but not as a replica. The Berserk blade instead might just be the coolest bookend ever.
Blood from a book
Dripping with sculpted 'blood' and looking like it skewered whatever tomes it's posed with, Dragon Slayer might be the coolest Berserk collectible yet. Of course, it's not like there are that many, but still…
If you're unfamiliar, Berserk was originally (and is still) a manga from creator Kentaro Miura. It's loaded with action, monsters, blood and gore, and some of the most disturbing horror out there. And it's been offering all of that up since 1989.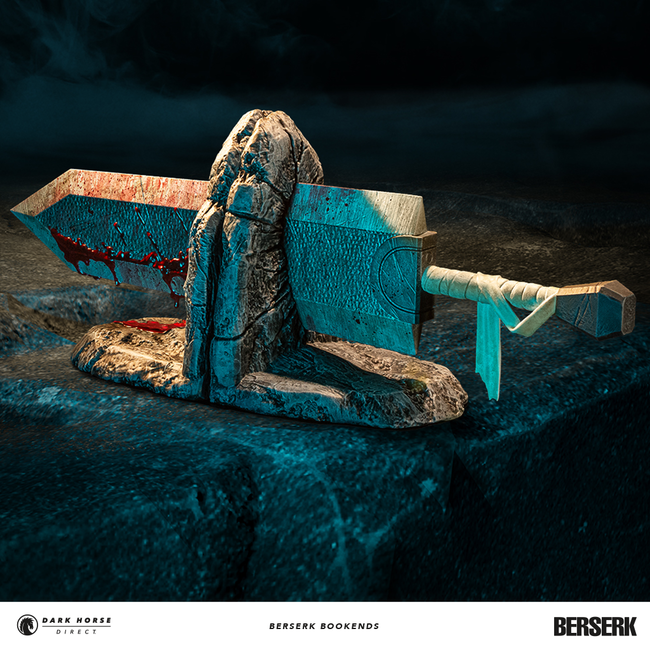 This bookend set is modeled after main character Guts' sword. It's a monster of a blade, called Dragon Slayer, and now it can slice through your books in style.
Crafted from poly resin, and sculpted by Bigshot Toy works and with hand painting from Ed Bradley, the bookend is 7″ tall by 5″ deep, and 9 to 10″ wide. That width though, becomes vastly increased by the books you place between the ends. Dark Horse says it'll safely store books up to 19″. So this can really fill a bookcase, or the top of a display.
Look for this badboy to hit stores some time this summer, for the price of $199.99 USD. You might want to keep an eye out for pre-orders too, or enquire with your local comics shop. There will only be about a 1000 of these made, globally.