Peripheral maker PowerA is back with a line of fight pads. Featuring a six-button layout and some nice features, they could fit the bill nicely for fans.
Fighting for a good controller
Third-party controllers were always second fiddle to the OEM stuff when I was growing up. But while my friends and I used to battle over who'd get the stock pad years ago, that's changed.
There are a few key companies out there now who produce quality stuff now. While they weren't on my radar before, PowerA seems to be one of them. Of course, the opinion is based solely on this review of the Wired Fight Pad, but still, it's gotta say something.
As third-party controllers go, this one does exactly what you'd want it to. For starters, it offers a good, solid pad and sports a design that's perfect for fighting games. But on top of that, you're also unlikely to get anything like this from Nintendo itself.
So it's a solid choice, though not a perfect one.
Ease of setup
There aren't many controllers easier to use than a wired pad. You just plug it in and that's about it. The Wired Fight Pad holds with that tradition, though it sports a USB instead of a console-specific plug, though that's the norm in the current generation.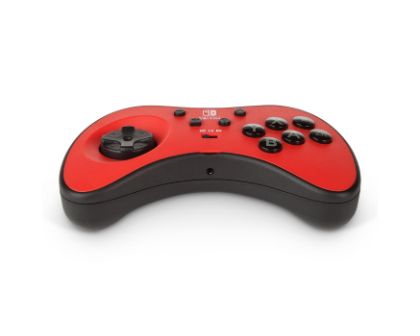 The Wired Fight Pad also comes complete with a three-pack of face plates. These serve no purpose other than to customize the pad to your liking. Red, gray, and white plates are included, and they snap on with a magnetic closure. Don't worry, the magnets are pretty strong and it's not too likely that the plates are going to fall off.
I will add here though, that you can't use this pad while the Switch is in tabletop mode (or handheld, obviously). That's due to it being wired. Remember that the Switch has no USB ports unless it's in its cradle.
So that does limit where you can use the FUSION. It's a home only controller.
Utility
So this is kind of cool – the FUSION Wired Fight Pad is based on the Sega Saturn controller. I actually didn't realize, but it's a favorite of fighting game fans according to PowerA.
It's easy to see why. An evolution of the Sega Genesis six-button controller, the Saturn pad has a terrific layout, with six face buttons. Add to that the Saturn's superior form factor and you have a winner of a controller.
Way more comfortable than the Genesis pad, the Saturn version actually had some ergonomics happening. The FUSION goes a step further and has an excellent weight to it. It feels substantial in your hands, which is something that the Saturn pad definitely didn't.
And of course, you get all the buttons necessary to interact with the Switch here too, like the L's and R's. There's even a toggle for use of the R buttons, which can be switched to function as the c-stick in Smash.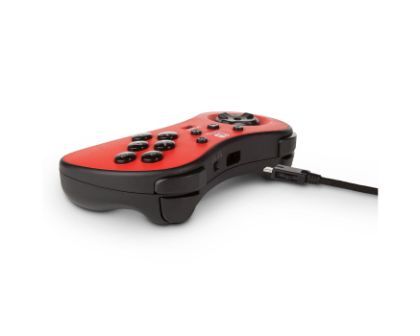 So yes, it's a fighting game pad, but it's one that looks like it had quite a bit of thought behind it. Even so though, there are some down notes. Well, one.
In the modern age, it's tough to get behind a controller that is wired. Now, I actually should go back a sentence and couch that since some people seem to prefer wired controllers since that cable kills lag. For your average player though, I don't think that's really a concern.
And with that in mind, the cord can seem a little dated.
Proficiency
Speaking of actually using this thing to play some games, it's a dream. I used the FUSION in a bunch of games, both fighting and not, and found that it worked flawlessly.
The pad is of the floating variety, like on the Saturn controller, and functions well. Maybe not as well as the classic 'plus' Nintendo design, but that might just be because I personally grew up on that.
So of course I prefer it over almost everything else. Nevertheless, I was able to pull off hadoken's and sonic boom's without much issue.
As for the six-button array, it's excellent. Nice and sturdy feeling, the face buttons are terrifically clicky and respond perfectly to inputs. The shoulders are a little softer, but still feel great. Maybe the best thing I can say is that I prefer the buttons on this over the Nintendo first-party Pro Controller. Says a lot I think.
Overall
If you're looking for a fighting game-specific controller, or just one for the Switch's array of 8 and 16bit titles, the FUSION Wired Fight Pad is an excellent choice. I still wish it was wireless, but it's hard to complain about otherwise.
It hits all the right notes, and does exactly what you want it to.
FUSION Wired Fight Pad
Release date: September 2019
Platform(s): Nintendo Switch (reviewed), Xbox One, PS4
Manufacturer: PowerA
Ease of Setup - 90%
Utility - 85%
Proficiency - 93%
THE FUSION Wired Fight Pad from PowerA is almost everything that you'd want from a 'fighting game' controller. It mimics the Sega Saturn controller in form, has excellent buttons and a solid pad, and feels nice and solid in your hands. I wish it was wireless, but other than that, it's a fantastic choice I would easily recommend.