From its humble beginning in 1939, to the beast that it's become, Marvel Comics is celebrating 80 years this August the 31st.
Happy birthday
When Marvel Comics first opened its doors on August 31st 1939, it looked little like what it does today. In those days, there were superheroes, but the likes of the Avengers and X-Men were still pretty far off.
Nonetheless, that first issue of "Marvel Comics" starred The Human Torch (the android original) and Namor, ushering in an age of Marvel. As a company, Marvel has seen some ups and downs, but is now a household name thanks to an enduring cast of characters.
Those characters are, of course, the central theme of the 80th anniversary celebration. And from the sound of it, a good chunk of them will appear in next month's Marvel Comics #1000.
"For myself and almost every other comic book fan around the world, Marvel's beloved comics and characters have been a part of our lives for as long as we can remember. But it all started with the Human Torch." said C.B. Cebulski, Editor-in-Chief of Marvel. "As we salute Marvel's 80th anniversary this year, we're excited to celebrate Marvel's official birthday!"

Marvel Comics press release
Marvel Comics #1000 will be a massive book, packed with a ridiculous 80 creative different teams. No, you're not reading that wrong. It's an 80 page giant with seemingly one creative team per page.
And as you might imagine, Marvel has some special events planned for August 31st, the day when this behemoth goes on sale.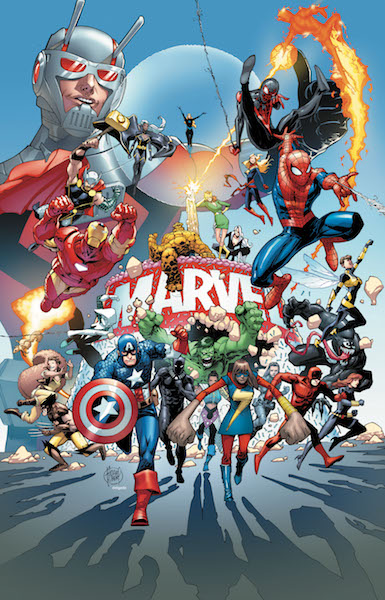 As a massive, oversized, special edition book, MARVEL COMICS #1000 will feature the greatest array of luminaries from both classic and current comic books (and beyond!), revealing a long-kept secret and some startling discoveries along the way. Participating comic shops will be hosting Marvel birthday party events and will have a brand-new edition of the MARVEL UNIVERSE MAGAZINE available free to customers. This magazine will feature exclusive art and behind-the-scenes content for some of Marvel's top comic releases in the fall, so readers will surely want to pick this up along with MARVEL COMICS #1000!

In addition to comic shops, stores around the country including Disney store, Amazon, Box Lunch and FYE will be hosting Marvel birthday celebrations with new and exclusive merchandise, special offers, giveaways and more!  Additional details and activations will be revealed in the coming weeks.

Marvel Comics press release