The 90s Ghost Rider is back! Danny Ketch returns to the hell cycle in a brand new series from Marvel that will co-star original Ghosty Jonny Blaze.
ALL HELLS BREAK LOOSE!
The Brothers Ghost Rider are back! Johnny Blaze ain't just the king of Hell—he's the warden too. He's the first line of defense between the demonic hordes trying to escape the joint and the lords of other hells making a play for his throne and all the power that comes with it – including a certain evil queen from his past! Meanwhile, Danny Ketch never wanted to be a Ghost Rider. Now that his brother's in charge downstairs, Ketch must take on the duty of Earth's Spirit of Vengeance full-time—no matter how much he'd rather be doing anything else… Superstar creative team ED BRISSON (EXTERMINATION) and AARON KUDER (GUARDIANS OF THE GALAXY) redefine the Marvel Universe's supernatural underbelly for a brutal new era! PLUS: the first installment of the Caretaker Chronicles! Forget everything you thought you knew!

Marvel Comics press release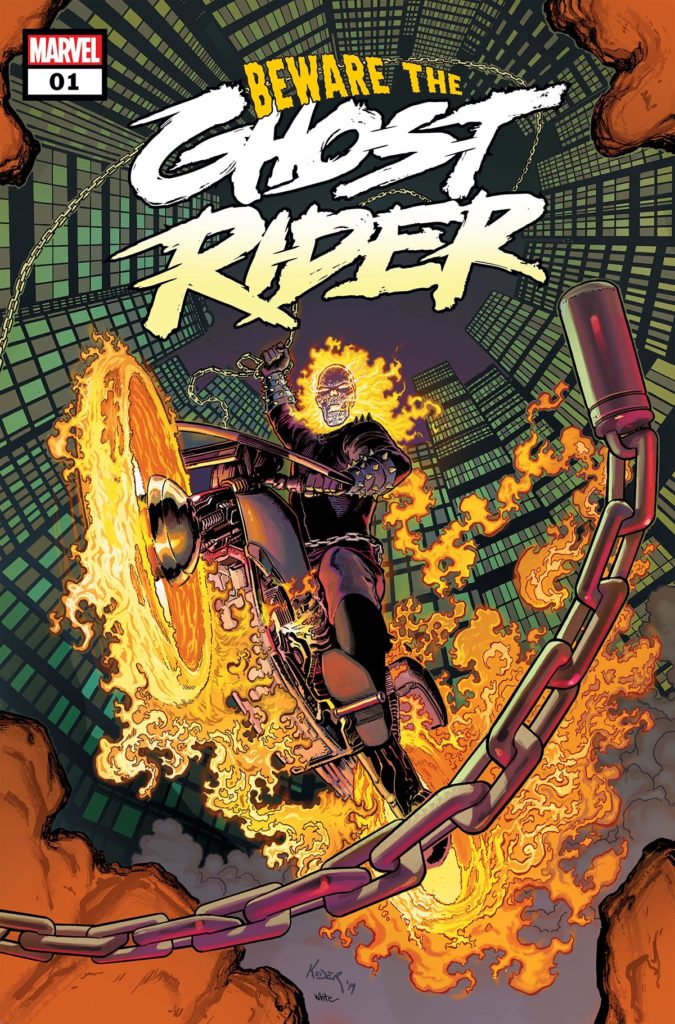 Beware the Ghost Rider
There's a solid creative team behind this new book, which will be called Beware the Ghost Rider. And hopefully it brings a sense of stability back to the character, who had a good initial run and a huge, fan favorite run in the 90s. That particular comic was starring one Danny Ketch, so it'll be especially cool to see him back in the saddle.
Where all of this leaves Robbie Reyes, the Ghost Rider with the car, I don't know. And Marvel doesn't mention him at all in this preview text, so your guess is as good as mine.
I have to say too, I'm just a little worried about the tone. The 90s series was very dark, but that "no matter how much he'd rather be doing anything else…" line seems like it could allude to a lighter feel. Then again, Marvel follows it up with talking about how "brutal" the new supernatural end of the Marvel U is going to be.
I guess we'll find out when Beware the Ghost Rider #1 hits stands this October.